By Chris Stonor
As part of Revolution.Aero's initial promotion for its three-day virtual extravaganza (June 29th-July 1st) entitled, The Fourth Aviation Revolution, highlighting key developments in the future of flight and bringing together leading lights from the nascent drone and eVTOL industry, the organiser has published an article featuring Skyports and its CEO Duncan Walker which focuses primarily on vertiports.
The article begins, "Whether you believe the estimated air taxi market value of USD5 billion (by 2030) or USD1.5 trillion (by 2040), when the handful of commercially viable air taxi manufacturers, out of hundreds (in business today), begin commercial operations later this decade, they will need somewhere to land." And continues, "Of the options provided by ground-based infrastructure companies – vertihubs, vertiports and vertistations, Skyports will be one such business building vertiports."
In 2019, Skyports built the first vertiport in Singapore as a proof of concept, where Volocopter's VoloCity demonstrated a flight around the Marina Bay.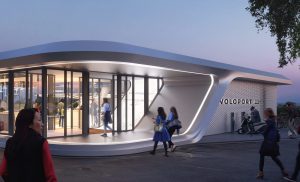 Walker says, "People genuinely could not hear the VoloCity flying above them. That partnership really set us on the pathway with the Singaporean authorities to turn it permanent at the end of 2022 or start of 2023." He continues, "We have joint ventures with most of the leading vehicle manufacturers on the route to market in certain locations. We are operational in 15 cities, in Europe and the US, and working with the rest of the ecosystem to make this happen in the next two-three years."

The VoloPort is essentially the eVTOL equivalent of a private jet lounge, or fixed-base operator (FBO), with the typical facilities to host passengers pre-flight.
Walker explains the company's next big project is an extension of the work it began in Singapore. Shortly after the trial flight, Skyports entered into a partnership with the French airports owner and operator, Groupe ADP, to demonstrate air taxi operations at the Paris 2024 Olympics.
Also, there are further aspects to this project, says Walker. Skyports will build a vertiport and integrate all the enabling technologies including communications and software. The trial flights and operational testing are to be conducted by other partners such as EHang and Volocopter.Skyports expects construction to begin by the end of the year and trial flights to take place in 2022.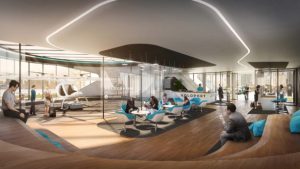 Public acceptance is a well-known hurdle to wide scale urban air mobility operations. Similarly, Walker found that he had to educate people about ground-based infrastructure such as vertiports and how they worked.
He comments, "Three years ago, no one believed this was a real thing. Now, those conversations have moved on to 'how' rather than 'whether' it is going to happen."
Walker says the regulation around ground infrastructure does not exist, making this a big challenge for anyone in the space. "It's quite hard playing a game without rules," he explains. "There is an opportunity within that. But sometimes you want to know what the rules are so you can comply with them, rather than having to write them."
Traditional heliports will be part of the network, but at present, there are not that many suitable for UAM operations. To get to some atop buildings, you have to go through access hatches, ladders and boiler rooms, making them inconvenient for passenger experience.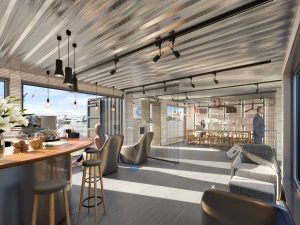 Skyports is having commercial conversations with companies in the private and charitable health care sector. Walker says, "We have more conversations than we can deliver. The problem is not demand. It is about picking those ones which we can execute in the short term."

Future partnerships might include Volocopter and Lilium, with which the company enjoys a close relationship, says Walker. Airbus, Vertical Aerospace, Hyundai and Joby are some others.
Walker concludes, "We've got some super exciting commercial contracts on the drone deliveries side coming up. And there's one or two things in the US and the Middle East which could be pretty transformational in the next three to four months."
Visual presentation
https://www.youtube.com/watch?v=TSxEyHgXEo0
For more information