By Chris Stonor
DronePrep has been in the news a lot this year and the latest announcement is for securing UKP30,000 funding to develop software that assists drone operators, reports suasnews.com.
The company, now part of the Malvern-based technology accelerator BetaDen, focuses on liaising with rural landowners to open up low-level airspace for drone flights. DronePrep is part of a consortium that recently secured UKP8 million funding from Government to trial drone deliveries of critical PPE and Covid-19 testing kits between Southampton and the Isle of Wight, while connecting GP surgeries along the South Coast.
The company also heads a consortium recently awarded additional Government funding to form a "drone airbridge and carry Covid-19 testing kits to vulnerable rural communities in Cornwall and the Isles of Scilly."
Claire Owen, co-founder of DronePrep, commented, "Securing the maximum proof of concept funding is fantastic news for our business and allows us to move to the next stage of development." She continued, "We can now embark on the full software build, which will offer increased functionality such as land ownership data, drawing tools and drone-access policies, helping drone operators – from recreational enthusiasts to professional and enterprise drone operators – plan compliant flight paths and envelopes."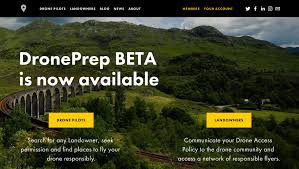 The company's mission is to let the drone industry and recreational pilots know where they can and can't fly and to allow engagement between landowners and the drone community. Its vision is "to create a platform that defines where it is possible to deliver drone highways in the sky."
Gareth Whatmore, the other co-founder of DronePrep said, "The new software will be developed by secure software specialists Borwell, with a target launch date of Spring 2021."
Linda Smith, founder and CEO of BetaDen, added, "The DronePrep team is developing a truly innovative platform that looks set to play a key role developing drone infrastructure around the world. "
She continued, "By combing their work with land owners with practical experience in the field, the team has developed a clear vision of how the platform can add real value to the sector, identifying key applications and issues that will shape its development."
Betaden's members have access to a programme of support worth around UKP50,000 including access to Worcestershire's 5G testbed, a UKP10,000 proof of concept grant, office space in Malvern Hills Science Park and guidance from industry expertise partner Steatite.
BetaDen recently opened applications for its fourth cohort of businesses, focusing on companies developing new and emerging technologies in six key areas: 5G, Industry 4.0, Security by Design, Internet of Things, Artificial Intelligence and Robotics. Applications for Cohort 4 close on Friday 8 January 2021.
BetaDen also creates opportunities for established businesses to develop technology within the accelerator, effectively supporting in-house R&D activity.
For more information
https://www.beta-den.com/apply-now/
(News Source: https://www.suasnews.com)
(Front photo: Claire Owen and Gareth Whatmore)