By Chris Stonor
Altitude Angel announced this week it hopes to become Europe's foremost supplier of UTM (Unified Traffic Management) technologies enabling nationwide drone operations globally within the next 18 months, reports a company press release. The release offers new figures which "detail the vast and extensive use of its UTM operating system and cloud platform."
In the UK, for example, Altitude Angel's GuardianUTM platform, has supported more than 20,000 drone operations in Controlled (CTR) and Restricted Airspace (FRZ) over the past 12 months with this number expected to rise in 2021.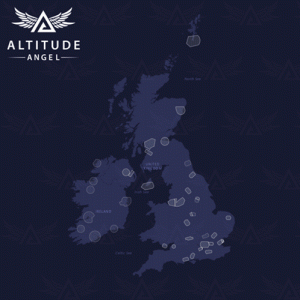 UK drone flights supported by Altitude Angel's award-winning UTM platform, GuardianUTM
Richard Parker, Altitude Angel, CEO and co-founder, commented, "General and commercial aviation traffic has been greatly reduced as a result of Covid. Quieter skies have enabled a huge acceleration in the development and demonstration of drone, or RPAS, technologies."
He continued, "As the UK and Europe begin to emerge from the pandemic, we expect drone operations will continue and grow at an even faster pace and Altitude Angel will continue its role as a critical player in ensuring every flight can be conducted safely."
With an estimated 1 million drone flights conducted across Europe every week, Altitude Angel expects "at least a fifth of them to regularly 'touch its estate' via its many industry integrations at some time over the next 12 months, with this figure only set to increase as commercial drone use and urban air mobility become common place."
Also, Altitude Angel's UTM technologies are the platform on which several high-profile, critical trials and demonstrations are enabled by in 2021.
These include:-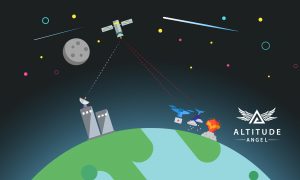 Parker said, "Airspace integration is key and GuardianUTM is the market-leading platform which fosters and encourages innovation by enabling all stakeholders in the drone industry to operate safely." Adding, "No other company offering a national, enabling UTM platform is able to demonstrate this track record."
He continued, "Already, GuardianUTM is empowering everything from drones delivering medical supplies in Scotland, to numerous UAM projects across mainland Europe, and here in the UK we see over 200,000 regular users via dronesafetymap.com,Drone Assist and Guardian mobile apps."
Over the next sixth months Altitude Angel aim to release a series of new functions, updates and upgraded apps for drone operators  available to ANSPs around the world. Accountancy firm PwC predict by 2030, jobs within the UK drone industry should reach 628,000, with over 76,000 drones operating in British skies.
Visual presentation
https://www.youtube.com/channel/UCFd_KWU0MhSJSW7HSDVpVew
For more information