By Chris Stonor
NASA announced this week that its six year development project of UTM is now complete and is passing on the baton, describing this as "a new era begins as Drone Traffic Management project wraps up," reports its Website.
NASA explains, "UTM was a research project exploring all the elements needed to manage flights of unmanned drones. The result was something totally new: an automated, decentralised system capable of coordinating an ever-growing number of flights."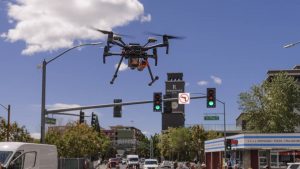 The fascinating feature below offers a look at how the NASA team worked with partners from commercial industry and the FAA, to invent a whole new type of air traffic management.
 Read Feature
 https://www.nasa.gov/feature/ames/new-era-begins-as-drone-traffic-management-project-wraps-up
 For more information