By Chris Stonor
Partners AZO, Droniq and CGI announced this week, the beginning of a feasibility study to evaluate a space-based communication system for Urban Air Mobility (UAM), as well as for drone operations to ensure safe, secure and reliable communications between Unmanned Aerial Systems (UAS) and ground stations, particularly for remote-control functionality, reports a press release.
Azo also announced it had, together with the consortium partners, been asked to tender on SPACE FOR URBAN AIR MOBILITY (UAM) by European Space Agency (ESA) Space Solutions to assess space-based services for safe and efficient UAM.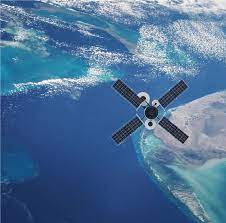 The release says, "The integration of drones into airspace is one of the most challenging evolutions in aviation and will change it in a revolutionary way."
It goes on, "The European vision is that air-taxis and drones are fully and seamlessly integrated into all environments and airspace classes and operate safely and efficiently alongside manned aircraft. The 'fully integrated sky' will be realised in phases through the integration of airspaces, U-space services as well as further operational applications."
Today, various companies around the world are working on concepts and prototypes for UAS, services, infrastructure and components for a wide variety of applications, including their automation. The operation of a large number of UAS in airspace "requires stable communication, which is not always reliable with a cellular connection, especially at greater altitudes."
The release explains, "An increasing flight density requires further a digital, automated system of air traffic management with the possibility for situational no-fly zones in emergency situations, rescheduling of flights and command via remote control."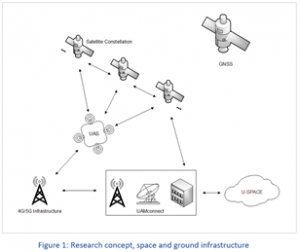 The 12-month feasibility study aims to assess space-based services and systems for satellite communication "as fallback technology" or "permanent availability in emergencies without a mobile network."
The communication link offers to transmit a number of different data, for example positioning, activation of no-fly zones, command and control, payload, aircraft performance, traffic as well as weather information. The implementation of a hybrid connection of a UAS to an Unmanned Traffic Management (UTM) system via a cellular network as well as satellite communication will close the gap between terrestrial and space-based communication to UTM.
CGI and Droniq will focus on mission-critical space software, control systems and platform solutions as well as general UTM software, while AZO is to concentrate on the commercialisation aspect of space-based applications.
Do you Wish to Join the Project?
Do you have experience in the areas of satellite communication and terminals; UAM market and applications; U-space implementation and legal framework; or are a UAS manufacturer or potential fleet operator and wish to contribute to the project?
Contact
Thorsten Rudolph (AZO): thorsten.rudolph@azo-space.com
For more information
https://droniq.de/en/pages/uber-uns?lang=en