By Chris Stonor
Giancarlo Zema, Founder and Owner of Giancarlo Zema Design Group, took to Linkedin this week to remind people of his highly imaginative ideas for the future look of vertiports.
Under the name Hamamelis, the company's innovative solar-powered designs for eVTOLs and drones to land and take-off from, Zema describes his vertiports as "seeds of a new way of moving."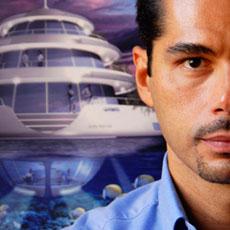 Giancarlo Zema
In collaboration with Walle Mobility, the first Italian air-taxi service, and Italian VTOL manufacturer Manta Aircraft, Zema's designs are "inspired by the tapered fruit of the Hamamelis, a plant of Chinese origin capable of launching its seeds remotely to perpetuate the species." The explanation continues, "An eco-sustainable project with organic and emotional shapes with large photovoltaic and multi-function surfaces, contains within itself a series of common areas, reception, cafeteria, restaurant, exhibition spaces, surrounded by green outdoor areas, furnished with products and solutions for smart cities by Luminexence."
The 80 metre diameter steel and glass structure with aluminium panel cover, opens upwards protecting the landing platform for electric aircraft from the wind. The floor, with wireless charging, is made up of special latest generation non-slip photovoltaic panels, produced by the English company Solapave, capable of generating over 1.5 MW per day, which integrate inside LED plates for lighting and nocturnal signage. The Hamamelis construction is ideal both on water and land.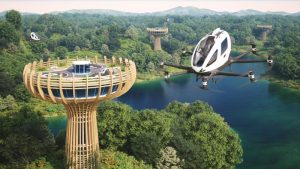 Giancarlo Zema came to prominence this year when his company released a vertiport design for EHang's craft. It is a stunning piece of highly original work, inspired by the native African tree Baobab.
UAMN Previous Article:
https://www.urbanairmobilitynews.com/air-taxis/ehang-and-giancarlo-zema-design-collaborate-to-construct-first-eco-sustainable-vertiport/
Footnote
The Giancarlo Zema Design Group (GZDG), was founded in 2001. Based in Rome, the company has collaborated on various futuristic-looking projects including in Qatar and UAE, Bahrain, Libya and Azerbaijan, Iran as well as China.
For ANAS, a public Italian highway company, Giancarlo Zema has designed the "Green Island" smart charging stations for electric cars, distributed throughout the country, and the Smart Road Centre in Rome.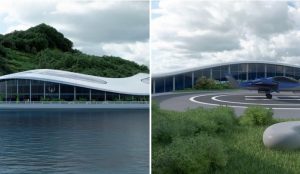 In the industrial design sector, he collaborates with important Italian companies including Giovannetti, Runtal, Origami Furniture, Luxyde and SmartKO. Zema is regularly mentioned in the media and boasts over one hundred publications and numerous covers.
For more information
https://www.giancarlozema.com/
https://www.solapave-global.com/
https://www.mantaaircraft.com/