By Chris Stonor
In mid-October UAMN posted an article explaining how Paris-based DragonFlyPads, a company that manufactures vertipads (mini vertiports), had just begun collaborating with drone companies, Pilgrim Technology, Unisphere and Unifly, where initially, "vegetables, fruits, spare parts for vehicles and medical equipment" were to be transported and delivered" from and over the busy Rungis International market, located 3 km from Orly International Airport and 15 km from the Paris city centre.
Previous UAMN Article:
https://www.urbanairmobilitynews.com/logistics/dragonflypads-under-the-radar-but-over-the-trend/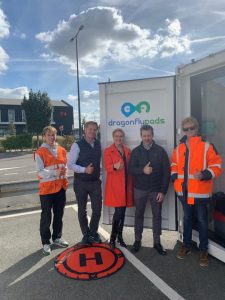 DragonFlyPads Team
Over the ensuing two weeks, more than 30 surveillance and 50 transport flights took place day and night within the Rungis Market, assisted by various wholesalers. Various fragile items were also successfully transported including defibrillators and bottles of champagne.
This week DragonFlyPads published a press release in the form of a Q&A to explain, more fully, its vertipad product.
What are vertipads? Why do we need them?
Drones need safe places to land and take off. This hybrid infrastructure, between a service station and mini airport, enables drones to operate in complete safety, sheltered from the elements, offering secure storage for both drones and cargo, repair facilities, and an efficient charging solution. The vertipads, developed and deployed for the first time in France by Dragonflypads, are recycled maritime containers, ecological, mobile, and equipped with a seamless software that manages air to ground connections for the drones as well as the grid of vertipads.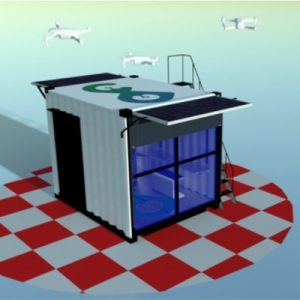 How does the UTM system come into play?
Drones cannot fly in isolation; flights need to be planned and authorized, unexpected changes can occur at any time and need to be dealt with immediately. The UTM system ensures total situational awareness and real-time communication between all stakeholders to ensure the safe and efficient use of the airspace.
The flyby of cargo over a commercial, complex and urban area such as the Rungis Market is a first in France.  Authorisation was granted by Civil Aviation (DAGC) after a very rigorous process who continue to support DragonFlyPads in the development of new vertipads in other complex areas outside of Paris.
Sissel Thorstensen, CEO of DragonFlyPads, then adds, "We have been working closely with Unifly over the past year and are delighted to have conducted a series of successful and conclusive cargo flights together in such a complex urban environment."
Leon van de Pas, CEO of Unifly, commented, "Using drones in a busy real-life environment like Rungis market brings us another step closer to making drones an integral part of our daily lives and businesses. Together with DragonFlyPads we demonstrated that drones can be used safely and efficiently and that they add value to daily business operations."
For more information
https://www.dragonflypads.com/