By Chris Stonor
A new company, Urban Blue, has been set-up to develop vertiports, initially around Europe, to expand the Urban Air Mobility (UAM) industry, reports internationalairportreview.com. Urban Blue is a joint project representing Aeroporti di Roma (FCO), Aeroporto di Venezia (VCE), Aeroports de la Cote d'Azur (NCE), and Aeroporto Guglielmo Marconi di Bologna (BLQ).
The company will be focused on the study, design, construction and management of these new infrastructures, that are essential for eVTOLs to connect airports with city areas and promote intra-city mobility, promoting the decongestion of traffic in urban centres.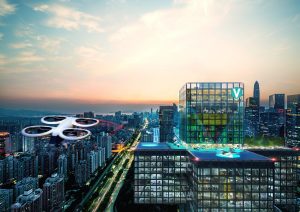 The potential of this sector is growing strongly with a market value for Europe estimated to be more than EUR4 billion by 2030. Urban Blue intends to position itself as a leader in this industry. The company is to rely on its partnership with Volocopter to begin the process, while EDF Invest, a shareholder of Aeroports de la Cote d'Azur, will support Urban Blue financially.
The initial network of vertiports is planned for Rome, Nice and Venice to be constructed by 2024 in preparation for the French Olympic Games based in Paris.
The articles states, "In an initial phase, Urban Blue will carry out technical-economic feasibility studies and masterplans, in co-ordination with all the stakeholders of the new ecosystem, preparatory to the authorisation phase, and the subsequent construction and management of the vertiports."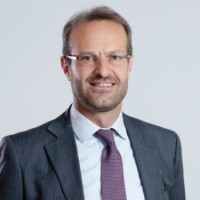 Marco Troncone
Marco Troncone, CEO of Aeroporti di Roma, commented, "We are working in synergy with all the stakeholders and industrial partners to design the ground structures within the overall ecosystem, aiming at the operational start-up of this service with a challenging but possible timeline, to allow Rome to be among the first cities in Europe to activate this kind of connections."
Monica Scarpa, CEO of the SAVE Group, remarked, "The goal is to build a vertiport at the Venice airport by 2024 for eVTOL Aircraft which will relieve traffic congestion from the urban areas around Venice Marco Polo airport".
Nazareno Ventola, CEO of Bologna Airport added, "Aeroporto di Bologna SpA wants to be a protagonist of this future and the partnership that we are going to develop is an opportunity to be fully seized and exploited, in the interest of our shareholders and our stakeholders".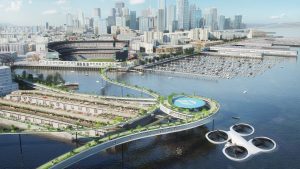 Meanwhile, Christian Bauer, CCO of Volocopter, explained, "Urban Air Mobility can only work with the necessary ecosystem around it. A renowned infrastructure partner like Aeroporti di Roma creating a company like Urban Blue plays an integral part in bringing electric air mobility to cities."
(News Source: https://www.internationalairportreview.com)