By Chris Stonor
A standard dictionary meaning of vertiport is "a type of airport for aircraft which land and take off vertically." Question: Who first coined the word? The word derivation is obvious. Just as a helicopter has a heliport to land on, so a vertical take-off and landing aircraft has its vertiport. Yet, who actually created the word? When was it first written in print? Perhaps, it was simply logic itself.
It cannot be emphasised. Vertiports, and lots and lots of them, must  be constructed as quickly as possible. Otherwise, the eVTOL/VTOL market is dead in the water come 2024 when the leading companies claim they'll be commercially flying such craft in the skies. Infrastructure for this exciting new industry is as important as the actual plane. You cannot have one without the other.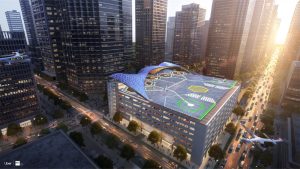 To encourage this impending and hoped-for "new wave of mass construction", the Federal Aviation Administration (FAA) is creating a special Vertiport Virtual Design Day on March 29th based around its draft EB 105 Engineering Brief, starting at 11 am (ET). "This Brief," says a press release, "provides interim guidance to airport owner operators and their support staff for the design of vertiports for eVTOL/VTOL operations."
https://www.faa.gov/airports/engineering/engineering_briefs/drafts/media/eb-105-vertiport-design-industry-draft.pdf
During this event, the FAA will provide an overview of the EB 105, discuss some critical aspects of it currently under consideration, and provide an opportunity for attendees to ask questions.
This is followed by a Comment Matrix for Draft EB 105. Completed comment matrices are due in by April 18th, emailed to vertiports@faa.gov .This address is also for official comments and general questions.
Registration
Register for the Vertiport Design Industry Day
Also Read:
https://to70.com/vertiports-initial-thoughts-on-their-design/