According to the latest Fleets Analyzer platform from Cirium, the eVTOL/UAM sector has a total of just under 4,500 orders.
"There are two clear top contenders in the sector so far – Embraer's Eve Air Mobility's "Eve" with 15 customers and 40% of the total commitments, and Vertical Aerospace's "VX4" with six customers and a 30% share of the total commitments," says the aviation analyst company.
"Range and payload seem to vary somewhat between the types, as does the number of motors which ranges from six to a whopping 36.
"There have been commitments announced for eVTOLs from a total of 38 companies. Avolon currently have a majority share at 11% of total commitments with the VX4, followed by American Airlines at 8% share also for the VX4 type. Azul is one out of two investors in the Lilium Jet and takes a 5% share of the total commitments. Bristow is the only customer that has commitments for multiple types, including the Butterfly, Eve, VX4 and the Electra eSTOL."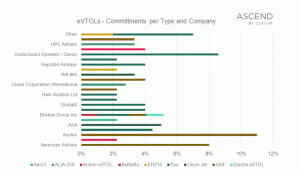 For more information
https://www.cirium.com/thoughtcloud/advanced-air-mobility-may2022-update/