The European Union Aviation Safety Agency (EASA) will publish its urban air mobility (UAM) draft regulations for UAS and eVTOL aircraft certification in 2023, according to EASA Executive Director Patrick Ky, opening the EASA High Level Conference on Drones: Innovative Air Mobility, at Amsterdam Drone Week. In May this year the Agency plans to publish its draft rules on drone business services in cities.
"The time to set these up is very tight – we will we hear of the start of operations in 2024, which means we will need to start to implement vertiports by then," said Patrick Ky.
EASA is also starting work on a pilot project to work on an on-line platform for local bodies involved in UAM implementation. "This will facilitate the understanding of the regulation, the necessary approvals and necessary considerations; we intend to launch this work in the summer of this year."
Adina Vãlean, European Commission Transport Commissioner spoke of a timescale somewhat longer, she expected the first UAM vehicles to be flying in 2030, she told delegates.
"EASA is taking a worldwide leadership role in UAM," according to Florian Reuter, CEO of Volocopter, who outlined some of the remaining regulatory approvals his company would need to meet in the areas of design & type certification, production certification and air operator certification by 2024 (see below).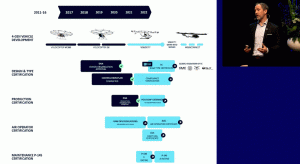 One of the first use-cases, he said, was for a Volocopter service between Le Bourget airport in Paris and the business area of the city.
(Image: EASA Director General Patrick Ky)