The U.S. Department of Justice (DOJ) released a report this week stating that drones delivering illegal contraband to federal inmates is on the increase, posing a "significant and growing threat", and needs to be countered more efficiently, reports oig.justice.gov.
The report revealed there were 57 drone incidents at federal prisons last year, although it estimates the actual number is much higher because the Bureau of Prisons (BOP) is not properly tracking such incidents. The 57 incidents "are more than double the 23 reported in 2018," the Inspector General, Michael E. Horowitz, stated.
In one incident, a drone recovered from a BOP facility had a package with 20 cell-phones, 23 vials of injectable drugs, dozens of syringes and multiple packages of tobacco, among other contraband items. The Inspector General warned that drones could also be used to survey institutions, facilitate escape attempts, transport dangerous weapons such as firearms or explosives and, as technology evolves, "future devices might be powerful enough to even carry inmates over the wall."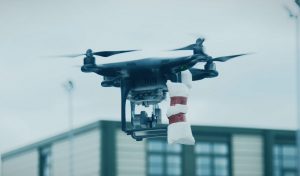 The report suggests ways of countering the threat including the BOP, "Improving its tracking of drone incidents by clarifying its reporting policy for federal facilities, as well as taking steps to comprehensively track them at its contract facilities." Adding, "Improved surveillance will allow the BOP to better determine the extent of the threat posed by drones and identify areas of highest risk."
Yet, the DOJ faces several challenges with its on-going evaluation of suitable solutions. These include identifying appropriate technologies, verifying they deliver on promised capabilities, and assessing the cost and benefits of such purchases.
Oig.justice.gov, commented,"Given the limited resources available to the BOP and the rapid evolution of such technology, continued collaboration both within the DOJ and among other federal agencies will be essential to address these challenges and protect BOP facilities from drone threats."
The report makes seven recommendations to the DOJ and BOP to improve the tracking of drone incidents at its facilities and to promote efforts to protect prison facilities against threats. The BOP and DOJ agreed with all seven recommendations.
Meanwhile, a justice department watchdog, criticised Attorney General, William P. Barr, for delays in finalising Department-level guidance on implementing DOJ authorities to counter drones which, it states, "has hampered the BOP's ability to propose and receive approval for deploying counter-drone measures and train its staff."
For visual presentation
https://www.youtube.com/watch?v=qpmw1wwyOXE
(News Source: https://oig.justice.gov)