U.S., Ohio-based electric-truck maker, Workhorse, has started delivering its new all-electric C1000 delivery vans this month. The 1000 stands for 1,000 cubic feet, which makes the vehicles about the size of a United Parcel Service (UPS) delivery van, reports truckinginfo.com. But there is a twist to this new van as it comes with an added extra – the use of autonomous drones to deliver packages to businesses and households for that last mile. Because apart from the financial savings of using electric vehicles as well as helping the environment, the deployment of drones can decrease those costs even further.
The van's robotic buddy is a Horsefly. That is the name of Workhorse's autonomous four-rotor drone. The craft pushes down costs by letting the driver make multiple deliveries at once. "It's like another delivery person," says Workhorse CEO, Duane Hughes,  who explains it can cost a logistics company up to USD1 to deliver a package and points out, "The drone costs just 4 cents a package."
In April the company expanded its patent portfolio for the HorseFly. Hughes continues, "In the last few months we have seen significant and growing interest in our vehicle-launched delivery drone, making the need to expand its patent portfolio even more critical."
The patents cover several of the system's key components and capabilities including its ground control station, winch deliveries and aircraft structure. The drone's design allows users to select different delivery methods from air drops to ground despatches. The craft also carries sensors and cameras and operates autonomously. The HorseFly is designed to transport about 80% of most commercial package sizes, shapes and weights, while carrying a five-pound payload up to 10 miles.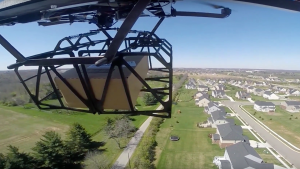 "We believe this increased interest is a direct result of the global pandemic and the realisation that new methods of delivery are quickly becoming essential," explains Hughes. "Additionally, we are hearing from many businesses that this transition is not a temporary one, and that we need to adapt to a new normal."
The Horsefly can be used on any of its vans with total cost for delivery being a mix of truck, driver and drone.  "It could be a substantial business," continues Hughes. The Horsefly participated in an April demonstration in Virginia looking at the deployment of drones for Covid-19 relief. He adds, "I think we wowed everyone there."
Breaking it down, the truck driver parks and stops the vehicle, then loads the package delivery drone. Using a touchscreen, the driver inputs a destination for the craft to take the package, perhaps, to a home set back a mile or two. The driver could move on to make other deliveries while the drone is doing its thing, but again, must maintain its line of sight.
"We're working with the FAA to see if we can relax the rule so the driver could take their eye off it for a slight amount of time, which would really speed this whole thing up as far as seeing this delivery system all over the country," says John LaFleur, vice president of vehicle programs at Workhorse.
What else might help? Multiple drones could be housed on top of the delivery truck, for one thing, and sent off on their way carrying packages. Also, LaFleur noted that while HorseFly must re-dock when the vehicle is stationary, the company is working on it being able to land when the vehicle is moving. That would also add potential efficiency to the setup.
Drones aren't quite ready for prime time though. As to deploy the drone for wide commercial service will take a Federal Aviation Administration certification, which may take up to 18 months. LaFleur says, "You're not going to see this soon in an urban situation. There are people walking around, wires, cars and other things all around. This is meant to launch primarily in rural areas, at least initially."
It might seem odd that an EV truck company also makes drones, but Workhorse developed its own expertise by producing an electric octocopter for personal transportation. The company sold that technology to aerospace supplier Moog in 2019.
Investors have taken a liking to the Workhorse strategy and vision. The company's stock is up almost 400 percent year to date. Workhorse's total valuation in the marketplace, including debt, is about USD1.6 billion.
For visual presentation