EHang, a world's leading passenger drone platform is not introducing a brand new aircraft, but a new application, reports dronelife.com. The Chinese company is launching an advanced version of the EHang 216 as a firefighting drone.
EHang's new application first responder drone, the EHang 216F, is specially designed for tackling high-rise fires. The company describes the 216F as "the world's first large-payload intelligent aerial firefighting solution." EHang's ability to translate their platform from the future application of passenger transportation and urban air mobility to current critical applications like search and rescue, cargo transport, and emergency services is not only impressive but shows a remarkable degree of flexibility.
Drone taxis may be years away from mainstream implementation, but first responder drone applications like firefighting offer an important way for air taxis to be gradually accepted by the public and world governments. The 'drones for good' message rings loud and clear.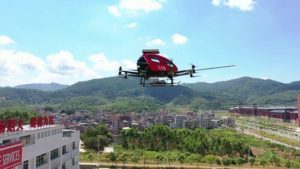 EHang demonstrated the 216F at a launch event in Yunfu, China.  The craft can carry up to 150 litres of firefighting foam and 6 fire extinguisher bombs in one trip and will reach altitudes of 600 ft.  Using a visible light zoom camera to quickly identify a fire location, the 216F "hovers precisely in position and uses a laser aiming device to fire (in succession) a window breaker, the fire extinguishing "bombs", and then a full-range spray of firefighting foam," an EHang press release explains.  "Multiple 216Fs can be deployed to rapidly extinguish a blaze."
EHang's Founder, Chairman and CEO, Huazhi Hu said, "The EHang 216F AAV aerial firefighting solution solves difficult challenges in high-rise blazes. Its potential is boundless." Adding, " We will explore and develop more aerial solutions and use cases to empower smart cities."
Weiqiang Chen, Head of a Yunfu fire station commented, "Firefighting and rescue is a race against death. By taking advantage of the rapid response and centralised management of the EHang AAV platform, we can greatly improve the effectiveness of our efforts."
He continued, "The drone's intelligent aerial firefighting solution can solve present difficult problems with high-rise fires. This complements existing firefighting systems and will improve society's ability to respond to emergencies."
EHang 216Fs have a 5km flying radius from their urban fire station operations' centre. The press release concludes, "EHang's autopilot and centralised management technologies enable a fleet of EHang 216Fs to be remotely dispatched for first response before firefighters arrive.  This significantly shortens response time and can reduce casualties."
Watch Video (Bottom of page)
https://dronelife.com/2020/07/31/ehang-launches-a-firefighting-drone-for-high-rise-fires/