The United Arab Emirates (UAE) has launched a National Hydrogen Strategy with a series of challenging production targets and has included air transport among the industries it is hoping to transform.
"It is a crucial tool to meet the country's commitment to net zero by 2050 and the Paris Agreement," says the new document.  "It will also help reduce emissions in hard-to-abate sectors, such as land, sea, and air transport, chemicals and fertilizers, and metals, including aluminum, iron, and steel, by 25 per cent by 2031 and 100 per cent by 2050."
By 2031, the UAE aims to establish local production capacity of 1.4 million tonnes per annum (Mtpa) of low-carbon hydrogen.
According to the strategy document
"The strategy will help accelerate the global hydrogen economy and scale up local hydrogen production to:
1.4 million tons per annum (mtpa) by 2031 (consisting of 1 mtpa of green hydrogen and 0.4 mtpa of blue hydrogen)
7.5 mtpa by 2040, and
15 mtpa by 2050.
"Following a thorough study of hydrogen demand, the National Hydrogen Strategy forecasts local demand of low-carbon hydrogen to reach 2.7 mtpa by 2031.  An overview of the targets and predictions for hydrogen production was considered while preparing short, medium, and long-term scenarios for the future generation of blue, green, and pink hydrogen until 2050.
"To enhance the UAE's position as a supplier of low-emission hydrogen and achieve the country's objectives, 10 enablers have been identified. They are: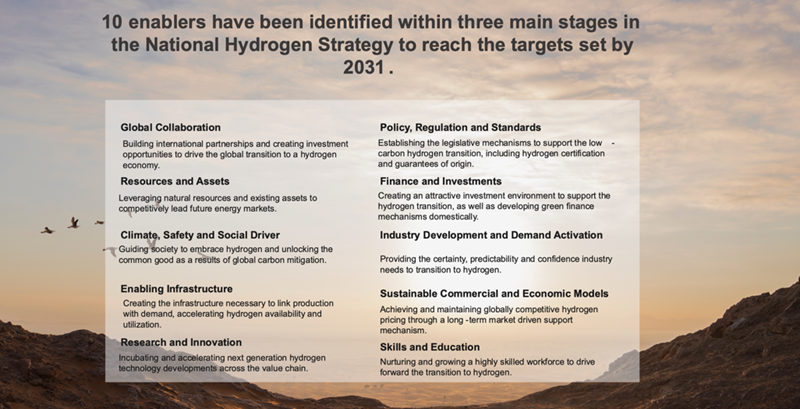 "The National Hydrogen Strategy drives the country's investments in clean energy and its contribution to the global efforts towards environmental sustainability, in line with its role as the host of the 28th UN Climate Change Conference (COP28)."
For more information
https://u.ae/en/about-the-uae/strategies-initiatives-and-awards/strategies-plans-and-visions/environment-and-energy/national-hydrogen-strategy