Overair, developer of all-electric vertical takeoff and landing aircraft (eVTOL), today announced the appointment of Tom Whayne as chief financial officer (CFO), effective immediately. As CFO, Whayne will oversee all financial operations and provide strategic guidance to the company as it continues its path toward commercialization.
According to a company press release: "Previously, Whayne was chief financial officer of OneWeb, where he led the raise of more than UDS3 billion of capital to fund the company's development of a global broadband communications constellation in Low Earth Orbit. Most recently, he was senior vice president and chief strategy officer of Maxar Technologies, an Earth intelligence and space infrastructure company."
In addition to Whayne's tenure at OneWeb and Maxar, he brings over 20 years of experience as an investment banker. Whayne was a managing director at Credit Suisse First Boston, Morgan Stanley, and Rothschild. He has a bachelor's degree in economics from Harvard College and a J.D. degree from the University of Virginia School of Law.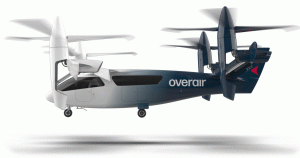 "Adding Whayne to the team solidifies the strength of Overair's C-suite and continues its strong momentum," says the company. "The company has made significant progress in the development of its Butterfly aircraft, with full-scale propulsion testing completed in the second quarter of 2022 and current execution of its full-scale prototype program in 2023. Butterfly will be the quietest, most robust and largest-capacity production-eVTOL vehicle, with seating for five passengers and a pilot plus a separate large cargo compartment."
For more information