Drone delivery service provider Skyports announced this week its partnership with Robotic Skies, the global maintenance, repair, and overhaul network for commercial unmanned aircraft systems (UAS), according to a company press release.
Skyports specialises in operating drone deliveries within the medical, e-commerce, and logistics sectors. Presently, the company is conducting medical drone deliveries to assist the NHS in Scotland during the Coronavirus pandemic.  Also, the company is a participant in the UK Civil Aviation Authority's (CAA) Regulatory Sandbox, where Skyports is working to advance regulatory approvals that allow more beyond visual line of sight (BVLOS) operations and the safe integration of these flights into non-segregated airspace, key to forming a permanent drone delivery service.
Duncan Walker, CEO of Skyports, said, "Certified maintenance is vital to enable full-scale, permanent commercial drone delivery operations. Partnering with Robotic Skies, our fleet of UAVs can offer the same safety standards as traditional certified aircraft."
He continued, "This allows us to further demonstrate our commitment to the safe operation and integration of delivery drones alongside other users of the airspace and supports our plans to grow our service network internationally."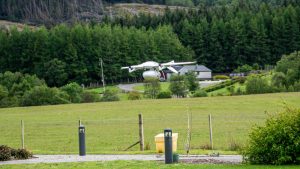 Robotic Skies, through partnerships with companies like Skyports, provides unmanned aircraft systems (UAS) and drone delivery fleet operators with local area maintenance services. The company's system combines expertise in UAS alongside traditional aviation maintenance methodology to deliver high-quality, scalable services. The Robotic Skies Service Centre network comprises over 200 independently owned and operated certified repair stations, spanning more than 40 countries.
Robotic Skies Founder and CEO, Brad Hayden, commented, "We are excited to partner with Skyports as they pursue the expansion of drone delivery and other BVLOS flight operations in the UK. Our global Service Centre Network offers high-quality support services when Skyports customers need it."
He continued, "Because we are leveraging the existing manned aviation infrastructure, we offer the highest quality, safety, and reliability in our programs for operators, regulators and manufacturers."
Skyports will also work with Robotic Skies to develop maintenance programmes and facilities for the emerging Advanced Air Mobility (AAM) industry. Skyports designs, builds, and operates networks of vertiports to enable safe and efficient passenger air taxi and cargo drone operations for the world's major cities.
 For more information