By Philip Butterworth-Hayes
Low level airspace in the future will have to accommodate more than eVTOLs and drones.
SkyPak is an unmanned, proof-of-concept, all-electric, flying backpack under development by Ascend Dynamics. A full-scale V1 prototype has been flying since June 2021 and the company is now developing a V2 piloted version.
The SkyPak's key design feature is the patent-pending layout of the rotors, according to the company.  The pilot is in front of the aircraft with the rotors behind, allowing an unobstructed view. The use of GPS and proximity sensors will enable position hold and waypoints as well as object avoidance for autonomous flight and pilot augmentation modes. A manual mode will be able to give the pilot full control of SkyPak, allowing for very direct control of the aircraft.  The unobstructed forward field-of-view pilot position on SkyPak opens up the ability to perform work in hard to reach places. SkyPak will be able to fly up to a difficult to access location such as a building, tower, or bridge and perform close inspections or hands-on work.
"The greatest technical hurdle for SkyPak to overcome is in the area of energy storage. For example, V1 has a 30lb battery that only provides 2 min of flight time," according to a company press statement. "Realistically the maximum flight time in a compact aircraft like SkyPak with today's battery technology is going to be less than 10 minutes.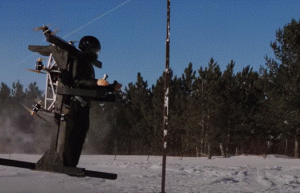 The SkyPak V1 prototype
"One of several potential solutions to increase range and flight time to usable levels is to use a lightweight internal combustion engine that runs a generator capable of supplying continuous operating power. This is something that Ascend Dynamics intends to develop as the SkyPak concept continues to mature. SkyPak V2 is the next step, which will require different motors that can spin larger propellers to provide more thrust. Ducts will be added around each rotor to make it safe for the pilot to be near them. For additional safety, guards on the top and bottom of the ducts will ensure that nothing can enter into the rotor area. With a few other adjustments, including a pilot attachment and control system, V2 will be ready to fly a human pilot for the first time. "
For more information
https://www.ascenddynamics.com/