The three-year Horizon 2020 funded project, Flying Forward 2020, launched in December 2020, has marked its first anniversary with a list of six deliverables: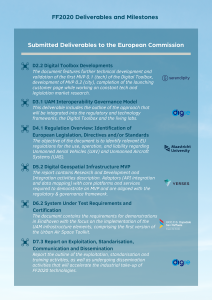 Next steps include publication of booklet that will include the most commonly used UAM terms and definitions.
The EUR6 million Flying Forward 2020 research and innovation project is developing a new Urban Air Mobility (UAM) ecosystem aligned with the Digital Government Transformation (DGT) of European countries, which focuses on incorporating Urban Air Mobility within the geospatial data infrastructure of cities. The project includes 12 partners and spans six countries.
FF2020 offers a geospatial UAM ecosystem which includes a governance model and framework (interoperable and scalable); regulatory framework (machine readable and executable); geospatial digital infrastructure (technology agnostic digital toolbox); Identity of Things Scheme (identity framework for operators, drones and authorities); and interoperability frameworks (technical, semantic, legal, policy and organisational) – which fully comply with existing EU-regulation and yet challenges these regulations by providing new insights.
For more information visit: