Hyundai Air Mobility and Urban-Air Port Ltd have announced a partnership to develop urban air mobility (UAM) infrastructure. Hyundai's investment of USD1.5 billion in UAM includes creating an air vehicle to support the mobility ecosystem for UAM operations. The company forecasts the air mobility market to be worth nearly USD1.5 trillion over the next 20 years. While vehicle development is crucial and underway, an urgent need for appropriate ground infrastructure remains one of the biggest constraints on the growing sector, according to NASA and industry leaders.
Dr Jaiwon Shin, Head of Hyundai Air Mobility, said, "As part of Hyundai Motor Group, our Air Mobility division is intent on supporting the development of human-centred cities through innovation."
Pamela Cohn, COO of Hyundai Air Mobility, said, "There is often a strong focus on the vehicles, but without coordination and investment in other areas of the ecosystem, UAM is just a flying science project."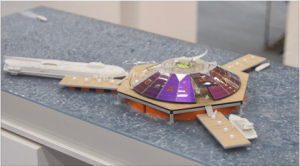 She continued, "Infrastructure is one of the crucial areas of the broader ecosystem that will bring aerial mobility to communities around the world. We are excited to partner with Urban-Air Port and UK communities to explore what this infrastructure of the future will look like."
The Urban-Air Port® design has a 60% smaller footprint than a traditional heliport or nearest-state-of-the-art 'vertiports', according to the company, allowing for quick and easy installation in space-limited urban sites. Its modular flat-pack structure results in a cost-effective, transportable and rapidly deployable new form of infrastructure. Providing both passenger/cargo processing/amenities and vehicle charging/maintenance facilities within its ultra-compact form.
Ricky Sandhu, CEO of Urban-Air Port commented, "We are extremely proud to announce our partnership with Hyundai Air Mobility, as we embark on bringing together world-class electric vertical take-off and landing (eVTOL) vehicle OEMs, passenger and logistics service operators, and our physical & digital infrastructure. We believe our unique, flexible and sustainable turn-key 'Air-OneTMapproach' will help unlock and propel a clean, future UAM mobility ecosystem, both here in the UK and around the world for multiple sectors."
Hyundai Air Mobility and Urban-Air Port plan to invest in development of a full-scale prototype for live eVTOL demonstrations. Two UK cities have already signed on to support development in 2021, including what will be UK's 1st, Coventry in the West Midlands, which will host UK City of Culture 2021 and the Commonwealth Games.
For visual information
https://www.hyundai.com/au/en/why-hyundai/concept-cars/urban-air-mobility