This project is co-funded by the Free State of Bavaria and aims at improving common data communication technologies in aviation so that the open, automated and interoperable Skyroads flight control system can also be operated safely in metropolitan regions.
"Skyroads enables operators of fleets, ground infrastructure and vertiports (take-off and landing areas for AAM aircraft) as well as aircraft manufacturers to test their vehicles and infrastructures at an early stage of development – while the Skyroads system guarantees the safety of the test flights.," says the company in a press release. "At the same time, the company provides support with the test flight application procedures, facilitating the respective approval by the authorities. The partners include Supernal as the AAM division of the Korean Hyundai Group, Flix, the Technical University of Munich with several chairs, Hybrid-Airplane Technologies, FlyNow Aviation, Horyzn, Blueflite, Amazilia Aerospace and Manta Aircraft from Italy."
"The new test field is a milestone not only for us but for the entire field of Advanced Air Mobility. We will only see drones for transporting passengers and cargo in densely populated urban areas if we create open, automated and interoperable flight management systems for them. That's what Augsburg is all about," says Corvin Huber, CEO of Skyroads.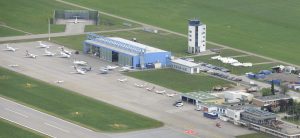 Skyroads is validating and verifying its system architecture and service approach at Augsburg Airport, supporting the development of future certification processes by collecting and evaluating operational experience. The Technical University of Munich is investigating the effects of innovative air traffic on the environment, especially with regard to visibility and noise. The ultimate aim is to provide local authorities with a simulation tool that can be used to predict the impact of future air traffic in order to support informed decision-making, reports the company.
For Skyroads and Augsburg Airport, the next step is to design and establish an operating agreement that regulates the operation of test and demonstration flights without disrupting conventional air traffic and the neighbourhood of the airport.
For more information
www.skyroads.com