Results of the trials and research are available on the programme website (see below).
Researchers have defined and initially validated a high-level ConOps for UAM and have demonstrated UAM flights safety and their integration with other airspace users through flight test campaigns.
A bilateral workshop between the AMU-LED project partners and the European Aviation Safety Agency (EASA)in January, focusing on the lessons learnt regarding regulation and standards. During the workshop the leaders of the three AMU-LED flight demonstration campaigns presented the main findings and conclusions from the flight trials carried out within the project. The presentations focused on the learnings from the application of those regulations and standards during the preparation and execution of the flight demonstrations.
According to the programme report:
"AMU-LED has carried out several flight campaigns in three different countries (the UK, the Netherlands and Spain). In particular, there had been six demonstrations in total, taking place throughout the summer of 2022, in Cranfield (UK), Amsterdam (NL), Enschede (NL), Rotterdam (NL), and Santiago de Compostela (SP).
"In June the demonstrations started with the feasibility case in Cranfield, proving the readiness of the AMU-LED solution, technologies, and systems. These tests were led by Cranfield University, and took place at Cranfield Airport.
"After proving the feasibility of the AMU-LED solution, in August the project tested the desirability of its solution in Amsterdam and Enschede, focusing on public acceptance and social impact. In Amsterdam, the tests were led by the Royal Netherlands Aerospace Centre (NLR) and took place in the heart of the city, at the Marineterrein, whereas in Enschede Space 53 was in charge of them, taking place between the Space53 location at Technology Base and Twente Airport, and the city of Enschede.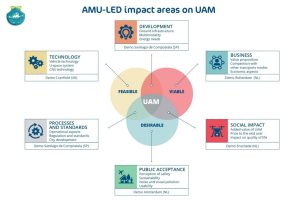 "In August in Rotterdam, the economic viability of UAM was also demonstrated. This test was being coordinated by AirHub and took place in the port area of the city.
"Finally, the city of Santiago de Compostela hosted the last demonstration of AMU-LED, where all the previous aspects – feasibility, viability and desirability – came together in a big final exhibition, coordinated by the technology centre ITG".
The research work included two flight trials: the flight of an EHang EH216 in October 2022 monitored by the U-space AIRUS platform, developed by NTT DATA and ITG. During the tests, the air taxi performed four flight missions combining simulated light drone traffic, which enabled the demonstration of the AIRUS system's ability to react in real time to different contingencies, such as deviations from the flight plan, runway obstacles and restricted areas in the air.
The second eVTOL flight was by a Concept Integrity from UMILES Next, equipped with TECNALIA technology, tested in November 2022. The AIRUS platform provided the 'Common Information Services' during the flight, and together with ANRA Technologies Software that also provided the USSP services.
This project has received funding from the SESAR Joint Undertaking (JU).
For more information