Drone and eVTOL engine pioneer CycloTech has received permission from the national aviation safety authority, Austro Control, to perform outdoor flights with its 85kg demonstrator starting March 2023.
CycloTech will now start an outdoor flight campaign at a general aviation airport in Upper Austria fostering its role as the world´s leading developer of the cyclogyro technology. Based on the same principle as the Voith-Schneider-Propeller, CycloTech has designed a new engine configuration with direct and instant control of magnitude and direction of thrust in a full circle of 360° – up, down forward, backwards – whereas all other propulsion systems basically only push or pull into one single direction.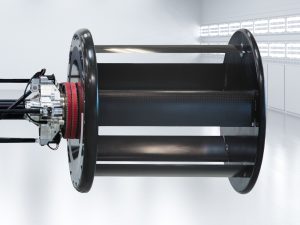 "The Operational Authorization for the outdoor flight test campaign is a major milestone and will be key to demonstrate the CycloRotor technology to the aviation world." said Deva Harsha Yarramshetti, Flight Test Engineer at CycloTech who filed the application for operational approval in October 2022.
In the process, CycloTech gave evidence of its capability as emerging aviation propulsion system company, according to a company press release, such as
SORA (Specific Operation Risk Assessment) according to UAS Regulation (EU) 2019/947)
ConOps (Concept of Operations) according to UAS Regulation (EU) 2019/947) including system design descriptions, configuration management, maintenance, trainings, operations, safety, risk management procedures, emergency response plans and much more.
Austro Control awarded UAS operational authorization for the "specific" category and therefore CycloTech is now qualified to operate its demonstrator, as an unmanned aerial vehicle, in visual line of sight (VLOS) under the respective regulations and proceedings in a controlled test area of 2.500m² and a secured environment of 100.000m².