Embention has brought its wide experience of working in the UAV market to deliver Veronte Autopilot 4x for eVTOL, a redundant flight controller ready for eVTOL certification.
According to a company statement: Veronte Autopilot 4x integrates three redundant autopilot cores, making it possible to connect an external fourth autopilot core for advanced configurations. All this is managed by an independent "arbiter" microprocessor running voting-algorithms for selecting the autopilot core in charge of the eVTOL control at any time. One of the key factors in Veronte Autopilot 4x is that it has been designed in the way that there is no single point of failure. Even in the event of an arbiter failure, the autopilot will remain operative for eVTOL control.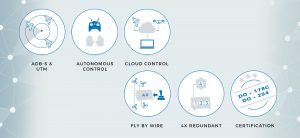 "Veronte Autopilot 4x has been designed according to DO178C and DO245 aircraft standards for onboard software and hardware design with DAL B compliance level," says the company. "It provides a certification datapack including autopilot reliability evidence needed for passing an eVTOL certification process.
For more information
www.embention.com