By Philip Butterworth-Hayes
The first urban air mobility commercial routes in Paris 2024 will be a 21km route from Saint Cyr and Issy-le-Moulineax to the west of the city and a 22 km route between Austerlitz and le Bourget to the west of the city, according to Groupe ADP, participating at the launch of the first European Advanced Air Mobility Testbed in Pontoise, close to Paris.
The airport group is currently talking with aviation safety regulators on how these routes will be supported by additional landing facilities mid-point in the planned routes.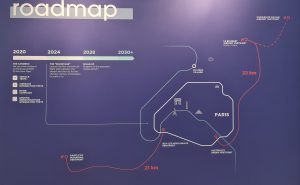 The testbed was officially opened earlier this morning at the Pontoise airfield. It comprises a permanent vertiport structure developed by Skyports and ADP, equipped with passenger processing equipment expected to be deployed in Paris 2024, including security and passenger weighing systems.
The Volocopter VoloCity eVTOL was present at the opening event. Under the current plans, the VoloCity will fly these routes with a single passenger with hand-luggage and a fast turn-around between flights; during the turn-around, ground staff will replace the nine batteries every flight and the pilot will escort the arriving passenger to the terminal and then pick-up new the passenger and take the to the waiting aircraft.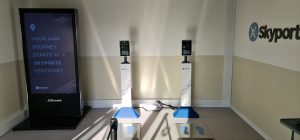 This fast turn-around will require some complex calculations around the number of pilots required to support these fast-turn around operations.