(First published on Rolls-Royce Website)
The race to develop air transport that could cruise across the city skies is on and Rolls-Royce is planning to be part of it. Gabriele Teofili, Business Area Lead for Urban Air Mobility (UAM) at Rolls-Royce, gives an update on the efforts being taking to lead the way in powering air taxis.
Rolls-Royce has set up a specialist team whose focus is to develop clean, efficient and quieter technology for flight, land and sea transport, as well as clean power for industrial applications. The mission is to pioneer sustainable power and contribute to a net zero carbon future by 2050.
Are you confident that the UAM market will take-off?
This exciting market has huge potential for Rolls-Royce in the next decade. There are an enormous number of start-ups and established players working on eVTOL programmes, many of them presenting promising concepts. Before COVID-19, Urban Air Mobility start-ups had jointly collected almost $1bn investment, demonstrating the huge amount of interest in entering this market. We believe that during this pandemic, the call for sustainable transport has grown. Of course, there are plenty of challenges including infrastructure, power supply and social acceptance, but by close collaboration between the different industry players, infrastructure providers and governments, there is an opportunity to help make this future a reality.
What are the next steps towards passengers flying on eVTOLs?
Today we see pilot trials in cities like Singapore and Guangzhou and at a later point we expect them to be able to operate autonomously. We believe that the first markets will develop on fixed routes between specific points in megacities, which are already partially served by helicopters. However, the benefit of the eVTOL is that they have the potential to be a lot quieter and to cover these distances at a fraction of the cost. Other applications that could follow is in agricultural, cargo and rescue missions, with commercial use in the 2020s, with large numbers of passengers being transported a decade later.
You are leading Rolls-Royce' Urban Air Mobility programme. What are you set out to achieve?
We are on a mission to become the leading supplier for complete hybrid-electric power systems for eVTOLs in the Urban Air Mobility market. Our task is to coordinate the global Rolls-Royce activities, to understand this evolving market, all while guiding the technological development to ensure we are delivering the complete propulsion system that will power this new mode of transport.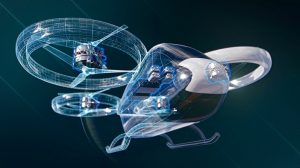 It sounds like an exciting time.
It is an incredible opportunity to be at the forefront of developing electrical technology that could power these new vehicles. We are focused on three main areas, the first, the testing of our prototype equipment in flight- our propulsion system that powers the CityAirbus demonstrator. This pioneering programme is expanding our expertise for the next iterations of our propulsion systems on the road to a product.
Secondly, we are developing and lab testing completely new technology. Once proven we will look to incorporate it into our propulsion system design. Finally, is the qualification of components. We take the individual technology bricks through a qualification process step by step so that in the end we can get to a certified, airworthy system.
In addition, we are continuing to build on our network of partners and attract customers, so we can work together to bring their urban air mobility concepts to life. This way, we can ensure that our system under design is tailored to real market needs.
How has the flight test campaign of the CityAirbus demonstrator helped with developing the technology?
This has been an important project to work on for the team and Rolls-Royce. We have been collecting flight data of eight electrical propulsion units and the power distribution systems that are on the vehicle. This data has allowed us to constantly upgrade and fine tune the installed software and hardware. This has also given the team the opportunity to learn how the system behaves in flight, and to fully discover our prototypes' capabilities. Having a flying demonstrator (or a flying test bed) is a vital learning tool for the preparation of the next generation of power systems!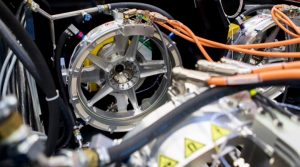 Do you already have in mind what the new generation of power system for UAM will look like?
The main design elements of our electrical machines are highly interactive, so we are continuously developing and testing the technology as we mature potential designs. We have already narrowed this down to the best candidates and will be finalising our design shortly. I can tell you this much: we will meet this challenge by applying innovative electro-magnetic designs, new lightweight isolation and clever cooling systems – and we will make sure these will be fit to operate in often physically demanding environments.
Will the work you are doing on developing propulsion systems for the Urban Air Mobility Market to technology being developed for other markets?
At Rolls-Royce, we intend to serve other emerging aviation markets with power and propulsion products. We already can see small electrical propeller aircraft, like training planes, being flown and we are on the way to certifying a first product for this application.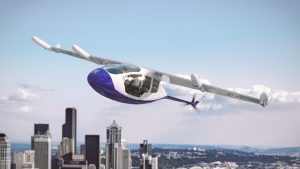 We are also looking to offer customers the opportunity to retrofit planes and also equip new designs of commuter planes up to 19 seats being developed. Finally, aircraft in our traditional segments will also become more electric – with integrated electrical starter generators, auxiliary power units and more intelligent management of the electrical systems on board. Power and propulsion for air taxis will complement this portfolio.
Each of these applications have their individual, very specific, technical requirements, but the broad capabilities needed are the same. At Rolls-Royce we build on vast expertise from the development of electric machines across an extremely wide power range from several dozen kW (like our H3PS generator) to several MW (for our marine customers), but we also have power electronics specialists, experts for energy storage systems and health monitoring among others. In addition, we have the system excellence to integrate all components and subsystems into lightweight, efficient complete systems. We are focused on delivering this technology to products for all these markets.
Joining these forces to transform the way we move, the way we travel, this is our electrical mission. It is an incredible time to be an electrical engineer!
Visual presentation
https://www.youtube.com/watch?v=SKpDQWu_nkE
For more information
https://www.rolls-royce.com/innovation/propulsion/air-taxis.aspx