Hybrid-electric aircraft developer VoltAero's impending Cassio aircraft is to be one of the options available to users of an app-based on-demand air taxi network being developed in the US called KinectAir, reports aerospacetestinginternational.com.
French firm VoltAero, headed up by former Airbus chief technology officer, Jean Botti, is developing the Cassio, which will fly at 200 knot-cruise speeds (360km/h) out to ranges of 1,300km. The aircraft will be available in three versions with four to 10 seats and be able to take off and land on runways of less than 550m at both local and regional airports. The Cassio is using the company's own hybrid-electric power module and is to be built in southwest France. First deliveries of the hybrid are scheduled in late 2022.
Startup KinectAir, launched earlier this year, is developing a short-haul regional air taxi service that uses a fleet of turboprop aircraft such as PC-12s, Cirrus SR22s and now the Cassio. The service is up and running with KinectAir operating as a charter-broker in Vancouver, Washington, while it applies for Part 135 operator status and develops an Uber-like smartphone app and software.
The partnership between the two companies hopes to  integrate the Cassio with KinectAir's short-haul infrastructure, applying AI to balance passenger demand with air transport availability. KinectAir's software platform will interface directly with Cassio's "intelligent cockpit".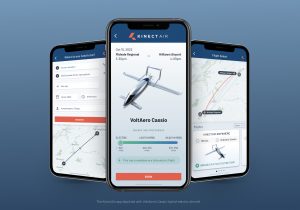 Jean Botti, VoltAero's CEO and chief technology officer said, "The KinectAir collaboration opens exciting opportunities, combining the full benefit of our Cassio aircraft's low-noise and environmentally-friendly flights with an app that offers an accessible, affordable, sustainable and safe way to travel regionally by air."
Botti added that ensuring regional air service is more important today than ever, especially when financially-strapped airlines around the world are abandoning shorter routes, threatening air links that serve as vital lifelines to thousands of communities.
KinectAir's regional air mobility smartphone app will allow users to order a flight directly from their nearest airfield. Using its fleet of leased and part-owned aircraft, KinectAir's software will balance supply and demand for air travel in a particular region.
"With Cassio aircraft in our fleet, it completes our vision for democratising personal air mobility," said Jonathan Evans, CEO of KinectAir. "Being mindful and intentional about the need for connectivity, and the ability to fly sustainably, is in our company DNA." Evans continued, "We will be able to offer a clean, quiet, and intelligent regional air service to move people to where they need to be."
Adding, "Partnering with VoltAero during Cassio's development also allows our software platform to be integrated into the aircraft's intelligent cockpit. This will enable a successful interface between the network and the aircraft."
For visual presentation