In the first in a new set of eVTOL manufacturer interviews, Urban Air Mobility News' Philip Butterworth-Hayes speaks with Archer's CEO and founder, Adam Goldstein
What will be the biggest obstacle to the very aggressive timeline for entry into service you have set? Do you have any concerns that other UAM/AAM stakeholder partners (regulators, infrastructure providers) will be able to meet these critical deadlines?
We are creating an entirely new form of transportation, so challenges will be multifaceted and overlapping in nature. Infrastructure is a good example for eVTOLs – it touches on everything from aircraft design to route planning to the economics of ridesharing to urban planning and much more. Accordingly, we don't view it as a standalone challenge but rather part of a broader vision we are working to realize. Although there is still much to be done before services can begin, the groundwork is being laid to support the business and operational timelines to achieve our goal of launching our first flights in 2025.
We feel that our partnerships will help us in attaining this aggressive timeline. For example, we're encouraged by the strong partnerships we've forged between city officials in LA and Miami (our launch cities), as well as groups like Urban Movement Labs, to thoughtfully integrate UAM into communities and ensure our service is ready to launch in 2025.
We are also benefiting from the expertise and experience of our manufacturing partners. For example, Archer has a definitive OEM agreement with Stellantis to tap into their low-cost supply chain, as well as a partnership with Hexcel, which will provide Archer with high-performance carbon fiber and resin systems. This year, we entered an agreement with Honeywell – covering the supply of flight control actuation and thermal management technologies – and the FACC – covering supply of key fuselage and wing elements for Midnight, Archer's production aircraft. Additionally, Archer entered a partnership with United Airlines and received a  $10 million pre-delivery payment from the airline for 100 eVTOL aircraft. This agreement is more than just a purchase order, but a partnership designed to get Archer to market quickly.
Archer is strengthened by the proven track records of these partners, and we believe they will help us achieve our launch timeline goals.
Will your initial routes be based on current helicopter VFR operations or will you seek to integrate new flight corridors and ground infrastructure from day one?
We are working with the FAA to establish routes that integrate into the existing airspace design in our early years of operation. That means we will coordinate with air traffic control to ensure safe operations as we share the sky. In the future, we aim to establish specific airspace corridors for UAM aircraft that will allow for a higher tempo of flights and increased route structures, which means more travel options for our passengers.
On the ground, we're planning on relying on existing aviation infrastructure to minimize the amount of new construction needed. We plan to ​​integrate into existing forms of multimodal transportation, like trains, airports, and parking garages, for the early days of our service. Since this infrastructure is already built and approved for commercial aviation uses, we'll be able to minimize the amount of new construction needed to support eVTOL travel while still providing a valuable transportation option to a large market of travelers to and from airports.
In 2021, Archer partnered with REEF Technologies to help facilitate the creation and placement of vertiports. As the largest operator of mobility and logistics hubs in the United States, REEF provides access to thousands of sites in dense urban areas potentially suitable for Archer's vertiports. In fact, with a network of over 4,800 parking garages, REEF offers a multi-million parking space system that covers 70% of North America's urban population. Archer and REEF will work together to allow Archer's aircraft access to largely dormant rooftop sites across some of the most densely populated and heavily congested urban city locations in the US.
Have you identified your first routes – regional or intra urban?
Archer differentiates itself by its strategic focus exclusively on intra-city travel as opposed to regional travel. We're focused on improving urban mobility and making it possible for passengers to experience new parts of their surroundings made accessible by the speed and range of eVTOL travel.
We have announced city partnerships with Los Angeles and Miami, which will serve as the launch sites for our eVTOL network. While we cannot share additional details at this time, we anticipate many of our earlier routes to revolve around airports and city centers, utilizing existing forms of multimodal transportation – like airports, train stations, etc. – to streamline last mile travel for customers. We are actively exploring locations for the expansion of our services to other cities and will share more in the years ahead.
Do you now have all your industry manufacturing team in place?
We are in the process of developing the infrastructure necessary to manufacture Midnight at scale and in a cost effective manner. We continue to expand our portfolio of suppliers and partners that will provide us with critical components for Midnight. Last year, we entered a definitive OEM agreement with Stellantis, one of the biggest manufacturers in the world, granting Archer access to low-cost supply chain, advanced composite material capabilities, and engineering and design experience. This year, we continued this momentum with announced plans to work with Hexcel to advance production capabilities, as well as partnerships with Honeywell and the FACC for key aircraft design elements and parts.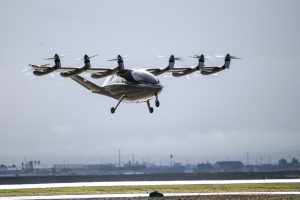 How do you see battery performance moving forward in the next five-ten years – how will this affect your overall aircraft marketing strategy?
Passenger safety is paramount to Archer's vehicle, so our battery will be designed to be tolerant to cell failures (either open circuit or hard shorts that may result in individual cell thermal runaway). We have set battery requirements so that thermal runaway will not propagate through the battery pack, and that any gasses are vented from the aircraft. Using smaller cells also means that the battery can continue to provide energy/power with high reliability to get the vehicle back on the ground, even if some cells have failed. We will reveal further details on our batteries and powertrain after Midnight has been officially unveiled, and will have more to share about our battery technology and development in the coming months.
Although we cannot share more details around future marketing strategy just yet, we expect battery performance to continue to improve in the coming years.
Do you see UAM/AAM as an extension to the current rotorcraft/business aviation market, or is this an entirely new market?
Archer considers UAM an entirely new market. Although we plan to leverage infrastructure from the current aviation market for vertiport locations, our aircraft design and the market space we plan to occupy will be new. We are creating a fully electric aircraft that can carry four passengers for up to 100 miles at speeds of up to 150 mph while producing minimal noise, and our focus is exclusively on intra-city travel. As aforementioned, we're focused on improving urban mobility, easing commuter congestion, and making it possible for passengers to experience new parts of their surroundings made accessible by the speed and range of eVTOL travel; no current aviation company occupies this space.
Where does the USA sit in the global race to introduce commercial UAM/AAM services?
Archer's priority is achieving Type Certification by the FAA, so we can't comment on global standards. However, we are encouraged by the FAA's public-facing statements around recognizing the potential of eVTOL to significantly benefit the public and its intention to facilitate certification and validation of new eVTOL aircraft, production, continued airworthiness, operations, and personnel licensing. Archer has made great progress on this certification, having most recently received our approved and signed FAA G-1 Issue Paper: Certification Basis.
(Image: Archer's Midnight first flight, credit; Archer)