NanoCommerce Sdn Bhd (NCSB), a subsidiary of NanoMalaysia Bhd, and Pulsar UAV Sdn Bhd (PUSB), have signed a partnership agreement to commercialise a hydrogen-powered drone also known as the High Endurance Fuel Cell Powered Unmanned Aerial Vehicle (UAV), reports nst.com.
The agreement will see NCSB taking a 20 percent stake in PUSB, a Malaysian company that manufactures UAVs. PUSB CEO, Izmir Yamin, said that partnering with NanoMalaysia assists the company to validate the requirements of drone services in various different sectors.
"The market validation gives us reason to further improve our drone services by developing an on-board hydrogen generator," said Yamin. "Now, with our in-house hydrogen technology, we're not only improving the services, but are also able to venture into other sectors like energy and transportation."
A hydrogen-powered drone allows it to fly for a longer time than a normal battery charge. The longer flight is made possible by the hydrogen fuel cell, known for its longer endurance.
The differentiating factor, in this case, is that the drone is equipped with a nanotechnology enhanced hydrogen reactor that produces hydrogen on-demand to the fuel cells. This generates electricity to power the rotors for flight without the need for heavy compressed gas storage thereby, improving the power-to-weight ratio.
NCSB and NanoMalaysia CEO, Dr Rezal Khairi Ahmad, explained NanoMalaysia places an intrinsic value on the project via a variety of project investments, intellectual properties, and market validation and access. Dr Rezal Ahmad commented, "The on-board hydrogen powered drone has already been sandboxed for precision agriculture with a level of success."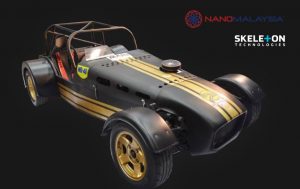 The business partnership will also enable NanoMalaysia to further develop the existing hydrogen paired hybrid energy storage system (H2SS), which currently powers Pulsar's drones, for another project, Malaysia's first locally developed electric motorsports vehicle, the hydrogen paired electric racecar (HyPER). HyPER, aims to mobilise the Malaysian automotive and transportation sectors in the direction of renewable energy, specifically green hydrogen as a first step towards a hydrogen economy.
Dr Ahmad concluded, "Malaysia will immediately possess an advantage in the form of homegrown hydrogen technology to catalyse the growth of a new and green automotive and transport industry in the near term."
For visual presentation
https://www.facebook.com/NanoMalaysiaBerhad/videos/hello-everyone-welcome-to-webinar-nanotech-talk-2020you-can-read-more-about-nano/248929473058271/