As drone usage increases both commercially and recreationally so does the infiltration of criminals and their nefarious purposes, reports commercialdroneprofessional.com. Therefore, INTERPOL have created a document under the heading Framework for Responding to a Drone Incident – For First Responders and Digital Forensics Practitioners.
Jürgen Stock, Interpol's Secretary General, explained, "Drones are becoming less expensive while the technology behind them continues to develop rapidly. Therefore, we are seeing an increase in their use not only recreationally and commercially but also for criminal purposes."
He continued, "Inevitably, this has given rise to serious challenges for the law enforcement community globally. Drones have become a permanent fixture in the current policing operating environment, and one that can only grow in scale and impact in the future."
Stock pointed out, "However, many law enforcement officers still lack awareness and understanding of drone technologies. Drones pose a significant threat to public safety and security if abused. It is therefore crucial that officers are equipped with the necessary knowledge and training to respond to drone incidents safely and effectively."
On the document itself, Stock went on, "INTERPOL engages with drone experts drawn from law enforcement, the private sector and academia across the world. This network was the driving force behind the creation of its inception.
"This document is designed as a reference tool for law enforcement worldwide and illustrates INTERPOL's continuous efforts to promote innovation and enhance best practices among our member countries. This framework is part of our on-going commitment to making the world a safer place, and I would like to thank everyone who contributed to it."
After the launch, commercialdroneprofessional.com spoke with Jamie Allan, CEO of Allan Panthera, a commercial and business growth consultancy firm, specialising in drones.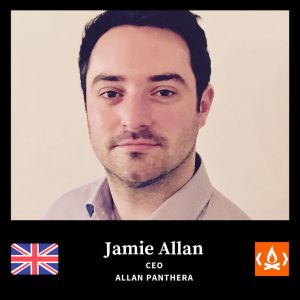 To the question 'How can large organisations positively influence smaller firms in deploying drones, Allan replied, "For INTERPOL to be seen as a leading and effective authority, they need to provide the best guidance and resources. With this framework, some of the world's foremost experts in the relevant fields were sought to contribute to and peer review it. So for a variety of international police and security bodies, this is an invaluable tool.
He continued, "Consequently, for smaller operations, this document becomes the gold standard from which they can adapt to their individual needs. And it's free! Additionally, it helps smaller operators with their incident planning because if they use this as a guide of what law enforcement will do responding to a drone incident, it subsequently allows you to prepare for that in terms of what to expect if you're involved in any way."
Allan, a police officer and contributor to the framework for INTERPOL, went on to comment on how vital it is for the organisation to be proactive when it comes to an emerging technology like drones.
He explained, "It is critical. Contrary to some beliefs held, organisations like INTERPOL have no interest in collecting personal data or 'snooping' on people with drones. Consequently, their mission for proactively advancing the use of drone technology amongst their member states is to assist and enhance the capability of law enforcement to use drones for good, whether that be countering the rise in the criminal use of drones, or helping police forces with the adoption and integration of the new technology into their service delivery models as a valuable tool for day to day operationally effective policing, such as searching for missing persons."
Concluding, "At the end of the day, INTERPOL can be a very powerful guiding light for others, much like any other global body which by its nature leads from the front."
For visual presentation