Alongside Bobby Healy, Founder and CEO of Manna Drones, Brody Sweeney is the other Irish entrepreneur at the heart of the fast-expanding world drone delivery business, reports www.joe.ie.
These pioneering "twins" are employing all their entrepreneurial flair, experience and past success to transform Ireland into "the European leader" for drone delivery, in a country where regulations are a little more flexible and friendly towards the small air-fairing craft.
This podcast is well worth a listen. Sweeney has experienced various business "ups and downs" during his life including the last venture, where he describes himself as "a feckin' idiot" for allowing it to fail.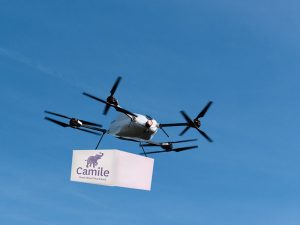 The two Irish entrepreneurs have joined forces. Sweeney has the Thai take-away foods to deliver, Healy the drones to carry them. Sweeney predicts that in the near future, Dublin may see up to "10,000 drones flying daily over the city at speeds of up to 80km/h, in 95 percent of all weathers", delivering food and general products.
He tells Sonya Lennon, host of the podcast Architects of Business, that the second round of trials delivering Camile Thai food via Manna's drones in Oranmore, Co. Galway is going well and he expects to roll out the business nationwide "fairly soon".
Sweeney says, "We load the food into the drone, it takes off to 400 ft, flies directly to your house. When it gets to your house, it hovers over the square, sends you a text message, asking if you are ready to receive it.
"You say, 'yes', the drone comes down to 40 ft and a little door opens underneath it and the food comes down on a string, which is biodegradable. The string then unravels from the drone and just falls down on top of the food, and the drone goes back up to 400 ft and it flies back to base. So it's extraordinary, it's working."
Listen to Podcast
https://www.joe.ie/business/10000-drones-dublin-near-future-home-delivered-food-ireland-706380
(News Source: https://www.joe.ie)