The United States should establish a comprehensive national advanced air mobility (AAM) strategy that enables it to be first to market by developing and scaling the AAM domestic industry, according to a new report from Deloitte.
"Deloitte and the Aerospace Industries Association (AIA) conducted a series of executive interviews with more than 50 senior American aerospace and automotive industry leaders to examine the global race in the space and the key steps and conditions required for the United States to achieve leadership in AAM. Deloitte also conducted an executive survey with responses from 102 senior industry and policy executives in the United States to study the market potential for AAM and analyze the principal technologies required for developing AAM products and services."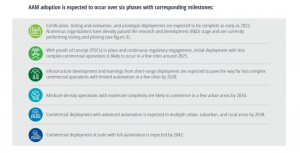 Deloitte expects the AAM market for passenger and cargo mobility in the USA to reach approximately USD115 billion by 2035,  equivalent to 30% of the US commercial aerospace market and 0.5% of the country's GDP in 2019. "The AAM passenger mobility market is expected to reach USD57 billion by 2035 and is likely to experience significant growth between 2035 and 2040. Correspondingly, the AAM cargo mobility market is expected to be USD58 billion by 2035. While the cargo mobility market will likely be the first to grow and achieve scale, the passenger mobility market is expected to start slowly but catch up and exceed the former beyond 2035."
The AAM industry could also contribute USD8 billion in taxes by 2035—USD6 billion in federal tax revenue and USD2 billion in state and local tax revenue, says the report. "The US economy could also generate USD20 billion in AAM exports by 2035."
"Many aspects of AAM would also have dual-use, innovative applications of unmanned systems for national defense. But to be an essential element of overall national security, AAM capabilities must be secure, readily available, and cost-effective. Through the development of robust domestic capabilities, the industry can provide AAM products that meet both national security requirements and the need for secure and reliable domestic air traffic management (ATM) systems.
"Today, more than 200 companies worldwide are developing transformative eVTOL aircraft, with more than a dozen projects receiving significant private industry investment. As of September 2020, private players had invested more than USD2 billion globally in developing these aircraft; this includes both traditional aerospace companies and new entrants with little or no prior aerospace experience.
"AAM capabilities are being developed through a graduated set of applications, beginning with less challenging cases for developing aircraft and networking schemes. As the industry finds solutions to some fundamental issues (e.g., collision avoidance systems, on-board sensors, and cognitive systems), complexity would gradually increase, with AAM applications moving into more rural and suburban and then urban environments with large populations, obstructions, and traffic density. Eighty-two percent of study respondents expect less complicated commercial operations in a few cities, with advanced automation to begin by 2034 and commercial operations in multiple cities with full automation to happen by 2042."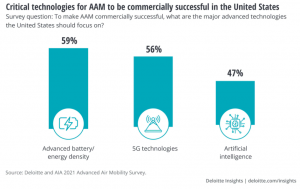 For more information
https://www2.deloitte.com/us/en/insights/industry/aerospace-defense/advanced-air-mobility.html