American company, Perpetual Motion, founded by commercial cleaning veterans Scott Thornton and Jimmy Petrick, is launching a commercial disinfection by drones business for large indoor venues and outdoor facilities, reports dronelife.com.
A press release states, "Perpetual Motion is a disinfecting distributorship that combines Lucid Drone Technologies with eco-friendly chemistry from Mark-V and Titania to offer a service for large-scale sanitisation requirements from learning institutions and sports arenas to major infrastructures both indoors and out to help safe and sanitary re-openings after lockdown."
Disinfection by drone hasn't been a major application before, but the pandemic has created an important need and the industry has moved to fill it.  Various companies previously involved in agriculture and the spraying of pesticides, have transformed their drones to the use of Coronavirus sanitisation.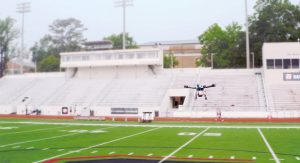 Company President, Scott Thornton explained, "At Perpetual Motion, we understand the urgency for schools, arenas and other large facilities to open doors as safely as possible. We believe our end-to-end solution, which combines American-made drone technology and safe disinfecting chemistry, can drive the success of re-openings and offer facility operators peace of mind."
Perpetual Motion brings drone technology combined with "an N-listed EPA-approved, hospital and food-grade neutral Dual Quat disinfectant from Mark-V."  Then the company follows the disinfectant with an application of Titania, "a non-friction, antimicrobial coating that adheres to any surface, providing an "armor shield" coat that's effective for up to a year for continuous protection."
Evidence suggests disinfection by drone offers savings in both time and money and is more effective than relying on human application. Company CEO, Jimmy Petrick, adds, "Not only does our solution retain effectiveness for over a year, it's safe for humans, animals and the environment."
For more information
https://www.perpetualmotiondrone.com
(news source: https://dronelife.com)