Wake Forest Baptist Health and its healthtech business operated through IQ Healthtech Laboratories, has launched a drone delivery service operated by UPS and its subsidiary, UPS Flight Forward (UPSFF) at Wake Forest Baptist Medical Centre.
This collaboration with UPS, via UPSFF, will provide a rapid delivery option for time and temperature-sensitive medical supplies as well as personal protective equipment (PPE) to help Forest Baptist's health care providers stay safe and improve patient outcomes.
UPSFF begins operating Matternet's M2 drones from Wake Forest Baptist Medical Centre's central campus in Winston-Salem to other health-related locations, marking the U.S. drone delivery industry's first hub-and-spoke operating model that launches craft from one central location. This structure and approach will enable UPSFF and Wake Forest Baptist to add new delivery routes more efficiently than would be possible with a point-to-point operation.
Initially, the drones will fly on two routes, with a phased approach planned to allow the program to expand as other opportunities occur. The craft will carry scheduled deliveries of specialty infusion medicines. Since these medicines are patient-specific and high-cost, with a short shelf life, delivery by drone within 10 minutes is an ideal solution. Individually compounded medicines will also be transported on demand to dispense to patients who need real-time access to treatments that are not commercially available. On another route drones will carry PPEs to health care providers.
Cargo boxes are connected directly to the drone for secure delivery of urgent and sensitive medical items, whilst specially trained operators are stationed onsite to fly them.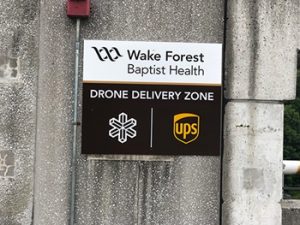 "Increasing efficiency of our supply chain routes helps provide better service to our patients and their families," said Conrad Emmerich, chief supply chain officer at Wake Forest Baptist Health. "Partnering with UPS Flight Forward through our iQ Healthtech Labs opens new doors for us to do just that through drone delivery."
iQ Healthtech Labs was established earlier this year by the Innovation Quarter to help orchestrate partnerships between institutions like Wake Forest Baptist and industry leaders looking to advance health-tech solutions into the marketplace. The Labs focus on five key sectors of healthtech:-
: Value and Health Transformation
: Virtual Health
: Healthy Aging
: Personalised care and Precision Medicine
: Learning Systems
As part of the partnership, a UPS Flight Forward office will be established in the iQ Healthtech Labs suite in the Innovation Quarter's Bailey Power Plant.
"This partnership with UPSFF aligns strategically with our mission to improve the health of those in the communities that we serve as well as our Virtual Health sector in iQ Healthtech Labs," said Jane Shen, PharmD, head of sector development for Innovation Quarter. "We seek to leverage technology advances to make access to health care easier and more effective. Collaborating in innovative ways with a key logistics partner like UPS allows Wake Forest Baptist to deliver care in better and more efficient ways to patients and their family."
Watch Video: (Bottom of page)
https://newsroom.wakehealth.edu/News-Releases/2020/07/Wake-Forest-Baptist-Health-iQ-Healthtech-Labs-Launch-Drone-Delivery-Service-with-UPS-Flight-Forward