Around 67% of municipal leaders in Lithuania believe drones offer a novel and future aviation opportunity, while privacy is a greater threat than the safety consequences of a collision, according to a recent survey by Asociacija Dronea (www.dronea.lt) a newly established non profit organization, which aims to promote the drone ecosystem in Lithuania.
Public safety and security services should be prioritized services, according to the survey.
In April and May this year the association received input from senior leaders of 36 municipalities in the country. The individuals polled were decision-maker with appropriate management seniority.
Table one: Overall views of drones by municipal leaders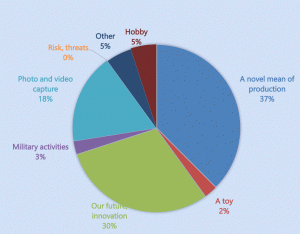 There were five key takeaways from the study:
Community engagement at municipal level is fundamental step to engage the public for wider support
Technology demonstration as exposure to practical application correlates with greater interest in the idea
Presentation of some case studies of how drones can be used for public benefit in various municipality settings to trigger positive consideration and goodwill
Specially designed information campaign at national level would encourage drone acceptance and application
The role of municipalities in the deployment of UAM/ground infrastructure locally is not sufficiently articulated at national and European levels
Table two:  Views of threats posed by drones