On December 7 2021 DRONAMICS unveiled the "Black Swan" – an advanced unmanned aircraft able to carry up to 350 kg of cargo at a distance of up to 2,500 km at up to 80% lower cost than any aircraft in existence, according to the company,
DRONAMICS plans to roll out a global network of "droneports" allowing the Black Swan to ferry cargo between existing small airfields at a fraction of the cost of current air freight operations, says the company. The aircraft uses 100% sustainable aviation fuel and the company has partnership agreements with major logistics suppliers.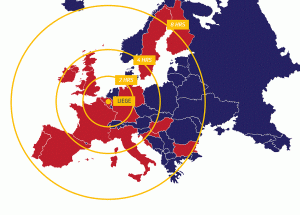 "Our mission at DRONAMICS is to democratize airfreight and lower the cost of shipping everywhere," says the company website. "…It can land on short and unpaved runways, enabling on-demand point-to-point flights and a speedy same-day delivery even to the most remote locations that would otherwise take days to reach over ground or sea. ​
The company statement continues:
"We are starting with domestic air networks in Europe and beyond with fleets of the Black Swan, taking advantage of the multitude of small airfields that are often unused, training local personnel as drone and logistics operators, and partnering with local industry to provide a valuable lifeline of getting goods in and out of small, remote, mountainous and/or island communities within hours at a cost that is often below even road transportation."
For more information
https://www.dronamics.com/