While it is clear there are no shortage of obstacles to the successful introduction of drone and passenger-carrying urban air mobility services (UAM) in cities – we are now in a position to start quantifying them.
The current timeline to introducing commercially viable UAM is six years, according to Dr Georgi Georgiev, Business Development Partner and town planning expert with robots.expert, speaking at the second CIVATAGlobal webinar on UAM and local authorities – Challenges Scaling up from Drones to Air Taxis, held on March 24. "Our main goal would be to at least halve that – we have identified all the major steps needed to do this for aviation and urban planning cycle," (see below).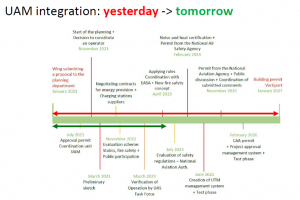 "For us, one of the first fundamental questions is where is the map that describes the urban airspace area with the entry and exit points going to be published – via current aviation channels or somewhere else?" asked Richard Parker, Chief Executive Officer of UAS traffic management (UTM) company Altitude Angel. "This will involve many entities, down to the level of individual buildings, defining areas where drones can and cannot go, what type of vehicles will be allowed and what the approach path might be. We don't yet have a centralised system anywhere capable of taking that fidelity of information and distributing it."
This may be not the greatest challenge.
Nearly all the aviation, technical and regulatory measures can be solved with time and money, said Darrell Swanson, Chief Executive Officer of Swanson Aviation. "But the one thing we can't buy is social acceptance; we have to earn it, which means getting noise and price down… in terms of finding the money, we've seen SPACs going through valuing some eVTOL companies at billions, I hope we are going to see a SPAC going through on the infrastructure side."
Another big issue is the psychological presumption of humans who don't expect their taxis to arrive from the sky, said Dr Georgi Georgiev. It will be vital to include these and all other societal acceptance issues – noise, privacy, price – into the discussion with the communities hosting these new services.
Swanson Aviation has been involved in a project of identifying potential vertiport sites for the UK and developing more detailed plans for a potential vertiport at Waterloo rail station on the southern bank of the Thames in London (UK). To get is to the point of full commoditisation the UK would need more than 200 vertiports and globally that means a trillion dollars of infrastructure spending. But the engineering and financing issues are only part of the overall challenge – the social issues also need to be considered.  "Any vertiport must complement not compete with existing public transport and a vertiport application that starts to drive passengers on to single use taxi rides will get a lot of opposition," he said. "Cities are trying to reduce congestion and the best way to find the right location and this is the hardest part."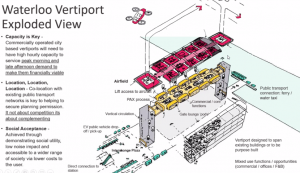 The Waterloo vertiport concept is being designed to handle around 4.5 million passengers a year, or up to 100 movements an hour – a considerable aviation and transport planning endeavour.
Altitude Angel is concerned by the vast differences between vertiport concepts and the airspace designs for landings and take-offs. That is why cities need to start now identifying sites and designing approach and departure routes, according to Dr Georgi Georgiev. When cities start to remodel their rail stations it is important to make sure UAM is part of their multi-modal future. Unfortunately, the system that will automate these procedures based on the current legal and regulatory framework does not yet exist, but when it does it should be cities who manage it, he said.
The good news is that we are now starting to gain some good knowledge about the benefits of developing community engagement.  As part of a wider consortium Altitude Angel has set up a drone corridor above Reading in the UK  "so that people can come and ask us questions, see the technology and realise that many of their earliest concerns are catered for," said Richard Parker. "We all have different expectations and we need to get people to see many different airframe types to enable a greater exposure. But what was interesting, in the build-up phase of this, was to see a building company approach us and ask whether we could extend the corridor to the land they are working on.
"It's not just about transporting people – we have to think about all airspace uses and get together as an industry to move towards integrated scenarios of first use cases – not demonstrations – working together over a major urban area."
The webinar is available for watching on demand via
https://www.civataglobal.org/civataglobal-events
(Image: the key Urban Air Mobility challenges: robots.expert)