Rolls-Royce has finalised trialling its ground-breaking technology that will power "the world's fastest all-electric plane", reports a company press release this week.
The technology has been tested on a full-scale replica of the plane's core, called an 'ionBird', including a 500hp electric powertrain powerful enough to set world speed records and a battery with enough energy to supply 250 homes.
The plane is part of a Rolls-Royce initiative called Accelerating the Electrification of Flight or ACCEL for short. The project team includes key partners YASA: e-motors for hybrid and electric vehicles, and aviation start-up Electroflight.
The team has been developing the technology while adhering to the UK Government's social distancing and other health guidelines and the systems will soon be integrated into the Spirit of Innovation plane. There is a long history of iron-birds in aviation for testing propulsion systems ahead of flight, but in this case we have named the test airframe ionBird, after the zero-emission energy source propelling the aircraft.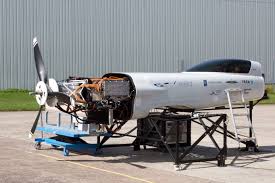 UK Business and Industry Minister Nadhim Zahawi said, "From trains to planes, our transport of the future will be powered by clean, electric sources with companies like Rolls-Royce developing the technology to help meet our net zero ambitions."
He continued, "The completion of ground-testing for the government-backed ACCEL project is not only a step towards an exciting world record attempt, but a leap towards developing all-electric and hybrid-electric planes that one day could transport large numbers of passengers around the world."
And Rob Watson, Director of Rolls-Royce Electrical, added, "Rolls-Royce is committed to playing a leading role in reaching net zero carbon by 2050. The completion of ground-testing for the ACCEL project is a great achievement for the team and another important step towards a world record attempt. This project is also helping to develop Rolls-Royce's capabilities and ensure that we remain a leader in delivering the electrification of flight, an important part of our sustainability strategy."
The first flight is planned later this year and Rolls-Royce are hoping to beat the current all-electric flight world record come 2021.
Mark Scully, Head of Technology for Advanced Systems & Propulsion at the Aerospace Technology Institute, said: "The ACCEL team is pioneering the integration of high-performance batteries, motors and drives to deliver an electric propulsion system in an ambitious flight test programme. These technologies and the systems integration needed to utilise them hold great potential for future sustainable aviation."
For visual presentation

https://vimeo.com/rollsroyceplc/review/461042529/546a83586b
For more information
https://www.rolls-royce.com/products-and-services/defence/aerospace