By Michael Willoughby
China's autonomous air taxi company EHang at the start of December 2019 announced its strategic partnership with property developer Heli Chuangxin Real Estate Co. Ltd. to build out an urban air mobility (UAM) demonstration project in Guangzhou. Many in the industry predict that China will be the first country to launch commercial urban air taxi services (in 2022), followed by the USA (2023) and Europe (2025).[1][2]
If air taxis and drone deliveries are going to be commercially successes thousands of air taxi vertiports will eventually be required, though with the first services likely to take place using current helipad facilities adapted for electric vehicle use. Before then, with drone deliveries now taking off around the world (https://www.urbanairmobilitynews.com/express-delivery/drone-delivery-services-growing-at-extraordinary-rate-new-unmanned-airspace-survey/) a new market sector – smart drone docking stations – will need to emerge.
The field is not totally empty of combatants. London-based Skyports is working with the German Volocopter on plans for a primary network of "Voloports" in Singapore. Norwegian drone and infrastructure firm, Skygates is looking to develop a spoke and hub service comprising 3,500 towers with the postal service, fire department and search and rescue in one element. EVA Labs in Portugal claims to be creating "the world's largest vertical landing and charging station" which "allows up to 24 drones to land, deliver their payload, charge or swap batteries and take-off… [coming] with a full ground control capability managed through a large 55 inches touchscreen." DRONEDEK unveiled its second-generation drone docking prototype at the CES Show in January –  a smart mailbox delivering conveniences such as notifications, heating and cooling, reverse logistics, Bluetooth, streaming video, weather reporting, hazard sensing, marketplace conduit and more – to complete the last mile solution (https://www.urbanairmobilitynews.com/uam-infrastructure/dronedek-to-unveil-next-generation-drone-docking-station-smart-mailbox-at-ces-2020/). Meanwhile, in Australia, Clem Newton-Brown has launched infrastructure company, Skyportz, in response to the need to future-proof helipads to accommodate VTOLs as well as helicopters. In November last year, it formed a partnership with Parking Australia developing a network of landing sites at major cities in the country.
Nevertheless, there is a lack of certainty about what the infrastructure will look like, where it will be and its extent.
Few can say how many will be needed. Newton-Brown, who was part of the successful push for Melbourne to be selected as the third city to join Uber Air's program, also sees a large but unspecified demand for infrastructure in the wake of the VTOL revolution. "The prototype aircraft are already flying and there are some of the biggest aviation companies in the world involved, including Airbus, Bell and Boeing," he told Urban Air Mobility News last year. "The early test flights will happen from existing helipads and airports but for a true on-demand service to develop we are going to need a whole lot of Skyportz."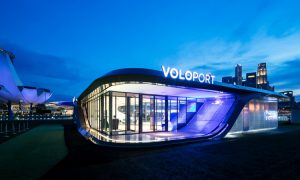 Simon Whalley, regulatory and policy manager for Skyports, was unable to estimate how many landing facilities would be needed for the 10 to 15 routes his JV plans for Singapore. "It depends how the vehicles and Vertiports interact in the locations where there is sufficiently high demand," he said. "It's impossible to put a total number on it."
Skygate founder, Bjorn Arild Woll's 3,500 is interesting because it matches the number of drones – carrying defibrillators – that his company will be running.
Drone towers are going to be at least a million dollars each and maybe much more. Bjorn Arid-Woll, founder and COB at Skygates, says that each of his company's five storey dronetowers is likely to cost EUR2.5 million – and 3,500 drones will be needed throughout Norway – coming in at a princely EUR8.75 billion.
Simon Whalley says it depends on scale; depending on "the size, facilities on, location of the Vertiport and number of FATOs," the cost could be between GBP1 – 10 million.
The chief function of any drone docking facility is to provide a safe landing and take-off space for electrically-powered air vehicles and power sources to recharge batteries. With UAMs only able to fly for about half an hour before needing a top-up, the frequency of the requirements for topping up power is substantial. But there are more questions than answers about specifying this.
Batteries will be a challenge to charge – which will need to happen as fast as possible in order to make changeover happen. Will the energy infrastructure cope with this?  "Some local charging stations can't even cope with all the Tesla [electric cars]", points out David Gleave, chief investigator at Aviation Safety Investigations and chair of the airports working group, International Society of Air Safety Investigators (ISASI). "You will need 24 sets of batteries to provide a half-hour changeover service. Where will you put them all?"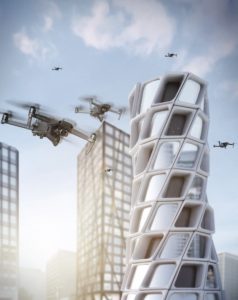 Arild-Woll says Skygate is looking at several solutions to make sure there's always power: "a huge battery backup which can power several planes simultaneously as well as extra onside solar power wind power."
A second concern developers face is considering how many different models of drones to provide charge to. Not all drones use batteries, of course. Some plug straight into the mains. Who will do it and how automated will the changeover be?
The mix of battery and mains charging also increases complexity: a drone port will not only need to have charging (and storage) points for numerous batteries, but also a variety of cables to plug into all the craft. With around 200 manufacturers currently producing drones and no standardisation, even powering up drones promises to be a significant challenge for any company hoping to create speculative vertiports.
"We really need a universal connection," says Whalley.
Newton-Brown considers charging design "obvious" – along with the billing system and navigation equipment, although, he says, flexibility will be important because "we haven't built one yet." Location for taxi drop offs is another big issue. And that risks NIMBYism.
To function as a taxi, most platforms will be flying from city centres to suburbs. They will have to be located somewhere which is convenient for passengers or deliveries while trying to avoid objections from nearby residents to UAMs landing in a residential neighbourhood, even following a passenger's night on the town.
"No one wants a Volocopter coming in through the window," says Gleave. "And will the garden be big enough? If we can't land in the garden, will it be a car park? In that case, who is taking the third-party risk deciding it can land?"
Skygates' Arid-Woll is trialling his infrastructure project by using it to serve ski slopes – only usually found in lightly populated areas.
"We will put them in a mountain region of 40,000 sq km where only 100,000 people live and where we can explore the risks," he says.
Even while working with UAM-friendly Singapore, Whalley admits noise is a concern. But he said he and many others were impressed at how quiet Volocopter was during test runs.
Newton-Brown is also – unsurprisingly – bullish about the positive reception infrastructure will receive as soon as people understand the benefits.
"I believe the biggest challenge will be winning the social licence from the public to have the VTOL system," he told Urban Air Mobility News last year. "We are going to need quite a few Skyportz and the unknown question is will there be the right locations that are acceptable to the public.
"I don't think people realise what a game changer this is going to be and once it's established as a safe, convenient form of transport, that's as affordable as getting a taxi, people will say the benefit I am getting out of this is worth having a bit more of background hum in my daily life."
Despite all these considerations, safety management must be the most pressing concern for UAM infrastructure. They will need to be designed to eliminate (as far as possible) the risk of deadly or serious accidents such as a drone falling onto a pedestrian or missing the landing point and crashing.
As Gleave says, "the acceptable level of safety for the commercial aircraft industry according to the Civil Aviation Authority is no deaths or serious or serious industries. "We can't have a commercial aircraft accident in the country. The question is 'how do you get to zero risk'?"
As there are no safety standards covering drone infrastructure anywhere in the world today the question is open-ended.  In the UK, Gleave doesn't see enough people developing them, either for designing drone ports or covering qualifications of those working on them.
Beyond accidents, fires are the chief safety concern. The problem is the lithium hydride batteries. Most of these batteries are self-combustible and cannot be extinguished by standard means such as carbon dioxide (CO2) or water and may even reignite.  "It's hotly debated," says Whalley. "You might have to leave the vehicle to burn out or put it in a bath of something."
As well as fire, there will also have to be regulations covering the size of the take-off area, meteorological conditions, securing data links in the light of terrorist threats, terrain and vegetation and if back-up human guidance will be needed. Working air taxis will need to be integrated into the vertiport regulations to understand how propeller downwash will impact the relatively small landing area.
Whalley is working with European Aviation Safety Agency (EASA) to help find a way to develop regulations to cover vertiport operations and the drafts of these could potentially appear in the third quarter of 2020.  Current EASA draft UAM regulations (EASA SC-VTOL-01) say: "The Special Condition and the AMC will not define standards for vertiports but will verify at aircraft level related elements such as minimum area needed or minimum climb gradients/obstacle clearances in normal and degraded modes, as applicable. Such information will then be provided through flight manual data (Aircraft Flight Manual and/or Supplement)."
He is also teaming up with the European Organisation for Civil Aviation Equipment (EUROCAE) to help develop standards in this area. But regulations will be complex and lengthy; although regulators are deeply involved in working on rules for platforms, vertiport regulations are only at the start of their journey.
"The industry says, 'we are ready to go' but I keep getting blank looks from people who should be developing regulations," says Gleave.
[1] https://www.chinadaily.com.cn/a/201910/15/WS5da5c483a310cf3e35570a5a.html
[2] https://evtol.news/2020/01/03/the-evtol-view-from-europe/
(Main image: EHang   EHang passenger-grade AAVs performed simultaneous flight in the downtown area and CBD of Guangzhou city, near the landmark of Canton Tower and LIEDE Bridge where are must-see sightseeing place for all tourists in Guangzhou.)