Since coming online in 2017, the FAA's Low Altitude Authorization and Notification Capability (LAANC) has provided drone operators with rapid, automated access to controlled airspace, reports the Skyward website. In many areas it opened the skies to business by decreasing the wait time for airspace approval from months to seconds. Skyward was "one of the first" FAA-approved LAANC service suppliers.
Now, the FAA has allowed LAANC in to 130 new areas of controlled airspace. This means the capability is available at more than 725 airports across the USA. Each of these facilities is available for Skyward.
For example, in the Dallas–Fort Worth area, much of this airspace was unavailable for drone operators. Now, with the newly enabled LAANC areas and an update to Skyward's drone airspace map, that area has been dramatically increased. For a complete listing of LAANC-enabled airports, including the new facilities, download an updated Guide to LAANC Facilities.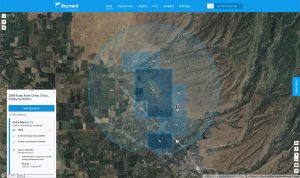 A majority of the newly-added LAANC airspace is at smaller regional airports. These locations see less activity than larger airports, and become Class G airspace (uncontrolled) during hours of less use. That means this type of airspace only requires authorisation from Air Traffic during particular hours of the day. At any other time, the airspace is not controlled.
Another example, is the airspace at Chico Municipal Airport (CIC) is Class D (controlled) every day from 7 am to 7 pm local time. If you need to fly in the area during these hours, you can request a LAANC authorisation as normal. If you wish to fly outside these hours, for example at 8 pm, there is no need to submit a LAANC request. Just be sure to fly according to standard Part 107 regulations.
Skyward's airspace intelligence map "simplifies complex airspace information to show you what you need to know at a glance." The company recently gave its airspace cards a fresh, clean design update, where for airspace that is controlled on a schedule, the card now displays the active hours.
Presently, Skyward visually differentiates between current and future Temporary Flight Restrictions. By displaying current TFRs in red and future TFRs in yellow, drone pilots can better understand where they can or cannot fly ahead of time.
The company has also made a few improvements in order to streamline the user workflow for submitting LAANC requests. Skyward uses information from a planned operation to automatically determine whether or not you need to submit a LAANC request in the first place.
Ultimately, Skyward helps to comply with federal airspace laws by helping operators "obtain permission to access controlled airspace." Skyward also helps drone programs "follow their own corporate policies, helping them track their operations in one end-to-end drone management workflow."
For visual presentation
https://skyward.io/new-airspace-intelligence/
For more information