State-of-the-art drone technology is ready to bring Greater Manchester's proud aviation history to life at the Avro Heritage Museum, reports geospatialworld.com. Blackburn-based, Networx3 Drones, has been working with museum bosses to relate the story of the site's 90-year contribution to the aviation industry.
Networx3 Drones operators, Ian Ashworth and Caroline Earnshaw, recently spent a day at the Stockport museum flying the UKP32,000 Elios 2 and UKP18,00 Matrice 210 V2 RTK drones in, under and over, some of the 30,000 exhibits including the cockpit of a Vulcan and Lancaster Bomber.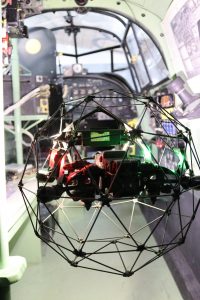 Read previous UAMN article on Networx3:
https://www.urbanairmobilitynews.com/inspection-and-surveillance/networx3-drones-blackburn-company-aims-to-produce-uks-most-accurate-maps/
The resulting footage will be used as part of a promotional video when the museum launches a multi-million pound fundraising campaign to expand the premises. Museum trustee Ian Lomax said, "It's very fitting that the latest technology in drone flight is being used to promote the proud history of airflight that our museum seeks to protect and preserve for future generations."
The Elios 2 drone is encased in a cage, which is the size and shape of a football, designed to view locked away spaces such as holes in the ground, loft cavities, drains, as well as dangerous structures, warehouses and contaminated buildings.
But when deployed at AVRO, alongside the DJI Mavic Pro 2 Enterprise drone with its 4K quality video camera, they were able to capture exhibits such as the VC10 and Nimrod cockpits from above; gain a pilot's eye view inside the aircraft; and offer a view within areas of the planes normally out of bounds to visitors.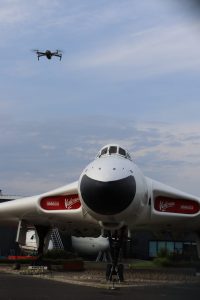 As well as recording an hour of HD footage the drones were also able to take hundreds of photographs that will be transformed in to a high-detail and high-resolution orthomosiac map.
Ashworth commented, "It was fascinating flying our drones in and around the aircraft because they're seen from a new perspective. We wish them all the very best with their fundraising." The photographs taken by the DJI Mavic Pro will create a 100% accurate survey of the land where the museum's new hangar is to be constructed.
The museum has a wish list of aircraft it would like to see housed in the extension including a Nimrod maritime aircraft and Avro Shackleton.
For more information
https://www.avroheritagemuseum.co.uk
https://www.networx3drones.co.uk
(News Source: https://www.geospatialworld.net)