On December 21 2021 Eve Air Mobility and Azorra, a longstanding partner and lessor of Embraer aircraft, signed a Letter of Intent (LOI) to order up to 200 of Eve's electric vertical take-off and landing (eVTOL) aircraft. On the same day Eve also signed a contract with  SkyWest for the purchase 100 of Eve eVTOLs.
According to a company press statement:
"Eve's strategic partnership with Azorra will focus on establishing a base of operators that plan for scheduled UAM missions and help to establish the requisite infrastructure needed to enable eVTOL flights around the world…. In addition to Azorra's order for up to 200 aircraft, the LOI creates an opportunity for both teams, together with future UAM operators, to propose new procedures and frameworks to enable the entire Urban Air Mobility ecosystem to complement Eve's agnostic product and service portfolio."
"Azorra is excited to partner with Eve and be at the forefront of the eVTOL revolution. The practicality of Eve's design, coupled with Embraer's 50+ year proven track record of developing safe and reliable aircraft will position Eve well for a successful product launch," said Ron Baur, President of Azorra.
"Today almost half of the commercial aircraft are leased and we believe leasing companies will also play an active role in Urban Air Mobility, allowing operators to remain asset-light. Azorra has a history of helping markets grow and we are excited to join them in this new frontier for aviation," said Andre Stein, co-CEO of Eve.
Meanwhile, SkyWest and Eve have also committed to develop a portfolio of services-based capabilities to optimize eVTOL performance in key early adopter cities that will be prioritized for initial Urban Air Mobility operations. To support this effort, SkyWest and Eve plan to dedicate a team to focus on vehicle design, vertiport specifications, and the certification roadmap for eVTOL operations.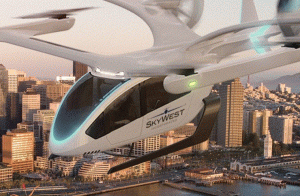 For more information
https://eveairmobility.com/eve-and-azorra-sign-partnership-with-order-for-200-evtols/
https://eveairmobility.com/eve-and-skywest-announce-partnership-to-develop-regional-operator-network-with-an-order-for-100-evtol-aircraft/
https://eveairmobility.com/eve-and-skywest-announce-partnership-to-develop-regional-operator-network-with-an-order-for-100-evtol-aircraft/