Honeywell has launched an Advanced Air Mobility (AAM) certification reference guide across key vehicle segments.
"Complex regulations are being developed to enable the certification and operations of crewed and uncrewed AAM vehicles designed to transport people and cargo. Until now, there had been no place these regulations had been comprehensively tracked," said a company press release. "Business and government leaders, engineers, media and anyone else with an interest in the future of flight can use the Honeywell State of UAS and UAM Certification Guide to help navigate and communicate the complexities of vehicle certification and operational approval across multiple vehicle segments."
"We understand the challenges that professionals working in the Advanced Air Mobility industry face as they look to navigate, track and ultimately comply with myriad developing regulations," said Jia Xu, chief technology officer, UAM and UAS, Honeywell Aerospace. "Because Honeywell provides certifiable, mission-critical systems that make AAM vehicles fly, it's essential that we understand the certification landscape across all AAM segments. We initially developed this certification summary table as a quick reference for our own team; however, we quickly realized that the information here can benefit the wider industry. We intend to update this document regularly to help AAM companies keep pace with regulatory development."
Industry professionals can access this living document at the following link.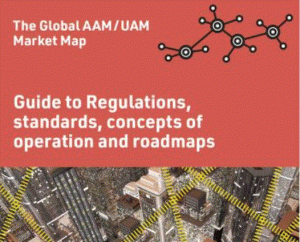 The Unmanned Airspace Guide to UAM/AAM regulations, standards, concepts of operation and roadmaps
The Unmanned Airspace Global Advanced/Urban Air Mobility Market Map Guide to Regulations, Standards, Concepts of operation and Roadmaps gives dynamic information on AAM standards for UTM, vertiports, vehicles and a lot more besides. Updated and truly global
This gives an overview of the standards and rules in place and under development, plus relevant commentary on the different approaches taken by national aviation safety organisations. The Guide includes:
Regulations
Regulators' UAM/AAM production and operations regulatory roadmaps
Safety management
Type certificate for aircraft design
Airworthiness certificate for individual aircraft
Propulsion: electric and hybrid engines
Design organization approvals
Production organization approvals
Air operator certificates
Vertiports
Standards
ASTM
EUROCAE
GAMA
ISO
SAE International
Roadmaps and concept of operations
States and cities
Industry
Regulations, standards, concepts of operation and roadmaps – Guide