UK-based PrettyLittleThing has been praised after unveiling a new fashion campaign filmed  by drones during the COVID-19 pandemic in Australia, reports dailymail.co.uk.
The online retailer has updated its website with photos of models posing on remote sandy beaches in Australia for their "EveryBODYinPLT" campaign, using drones only because of social distancing guidelines. During the shoot, the crew, hair and makeup teams wore facemasks and the models were photographed individually in isolated areas.  Social media users have been left gushing over the stunning campaign with one commenting: "This video is really breathtaking. Amazing!"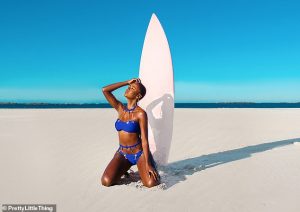 PrettyLittleThing, who works with models and influencers from across the globe, partnered with Australia-based creative agency Komodo, to achieve their desired look. Komodo has previously worked on fashion campaigns with brands including Boohoo, Missguided and New Look. The images were captured in and around New South Wales using some of Australia's best known models including Samantha Rayner and Kaela Tavares.
CEO and Founder of PrettyLittleThing, Umar Kamani, explained the campaign, called The Escape, is about celebrating feeling good in your body. "I am really excited to be launching this campaign with We Are Komodo," said Kamani. "Rather than getting up-close with a photographer, models were filmed with the use of a drone in a covid-secure way in order to adhere to the social distancing guidelines." Adding, "Due to COVID-19 we have had to adapt to new ways of working and for myself and our team to be the first fast fashion retailer to shoot solely via a drone proves why PrettyLittleThing are always at the forefront of the industry."
The campaign footage has been viewed over 51,000 times since being shared on PrettyLittleThing's Instagram a few days ago.
Watch the glamorous video (Half way down page)
https://www.dailymail.co.uk/femail/article-8484187/PrettyLittleThing-models-pose-breathtaking-campaign-filmed-entirely-drone.html