Q: What is a "Democracy Sausage"?
A: A "Democracy sausage" is the colloquial name for sausage sizzles sold as a fundraiser at Australian polling places on election day often in aid of the institutions that house the polling place. In 2016, the BBC reported that just under one-third of the 1,992 polling booths across Australia had a sausage stand by the count of the Election Sausage Sizzles site.
https://en.wikipedia.org/wiki/Democracy_sausage
 Not even Covid-19 can stop the great Australian democratic institution of the "democracy sausage", reports gizmodo.com.au. For to bypass the social distancing regulations there are a few good drones to save the day.
Select residents in the Australian Capital Territory (ACT) general election, who may have already voted early or via post won't have to miss out on their tasty "democracy sausage" just because they're nowhere near a polling station.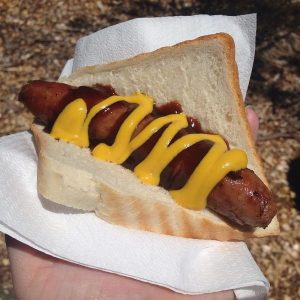 That's because drone delivery company Wing is adding Democracy Sausage to its menu, just for this coming weekend. But only for the Gungahlin region, where a sausage can be delivered to your door specifically between the times of 11am and 2pm.
Orders will be supervised by The Spence Grocer and Kickstart Espresso, who will add an accompanying coffee if desired. While a commercial business, the sausage sale still counts as a fundraiser as Wing will match the sales figures and donate the lump sum raised to the Palmerston District Primary School, which is already holding an "eSausage" fundraiser to keep in line with COVID-19 social distancing restrictions. The Primary School are selling "the virtual sausages" through its donation portal with funds earmarked for playground expansion. Obviously, the virtual means that what you're actually doing is offering a donation.
Madison Groom, Wing's ACT City Manager said in a statement, "We are so pleased to be able to give back to the Gunghalin community that has supported us over the last 18 months, by offering Wing customers the opportunity to still snag a democracy sausage".
Wing, which is a subsidiary of Alphabet, the parent company of Google, has been operating in Australia for a few years, but in limited areas and with daylight deliveries only.
For visual presentation 
https://www.youtube.com/watch?v=HydLO5jWNEI
(News Source: https://www.gizmodo.com.au)