At last weekend's opening of the fourth Shenzen International UAV Expo in Southern China, Shanghai-based Autoflight displayed its new V400 Xintianweng, an intelligent unmanned aerial vehicle (UAV) that lifts off and lands vertically, reports cntechpost.com. The V400 has a maximum take-off weight of 400 kg and a top payload of 100 kg.
The UAV, 6.67 metres in length and 1.11 in height, can reach a maximum altitude of 5,000 metres and is available in two power versions; an electric form with a maximum range of 300 kms and a hybrid one of 1,000 kms. The craft uses carbon fibre composite monocoque technology for "lighter weight, greater strength and improved rigidity."
The V400 has 8 sets of electric motors for lift and 2 sets of front and rear power sources for thrust, allowing it to take off and land vertically and hover like a multi-rotor drone, or fly horizontally like a fixed-wing aircraft.
The UAV not only has an 8-litre 2-propeller multi-redundant control system, multi-redundant flight control system, ground radar-assisted off-site landing and take-off function, but also can be equipped with a parachute to ensure flight safety. The craft can fly on autopilot, has the ability of airborne intelligent perception and avoidance, and supports "seamless connection" with 4 and 5G networks.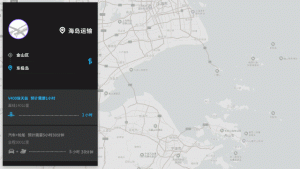 The UAV will be used in express delivery, urgent material transportation, medical aid and fire emergencies. It can significantly reduce the time of transportation, particularly in mountainous areas and islands. For example, it can take around 5.5 hours to transport goods from Jinshan of Shanghai to Dongji Island in Zhoushan, East China's Zhejiang Province, but the V400 can do that in just an hour.
The company also revealed its strategy of establishing Urban Air Mobility, with its future product portfolio mainly consisting of large-scale intelligent logistics aircraft and autonomous manned vehicles.
For more information