Geely, China's largest and bestselling private car-maker last year, now has its eyes on the sky rather than the road. The company's creation, the X-Chimera 25, is a civilian electric heavy-lift drone that delivers packages and can fly for many hours. It took off this week .
The X-Chimera 25 is built by Chinese drone maker AOSSCI. The start-up recently merged with US-based flying car developer Terrafugia, who Geely acquired in 2017. The resulting joint venture, known as Aerofugia, hopes to eventually introduce a hybrid car that travels on the road and flies like a plane. Geely has also invested in German air taxi developer Volocopter.
Rather than chauffeuring passengers, the heavy-lift drone is designed to carry a payload of up to 6kg and can fly for up to 6 hours, significantly longer than the flight time of many lighter civilian drones, which typically rely on rotors powered by smaller batteries, lasting less than 30 minutes in the air.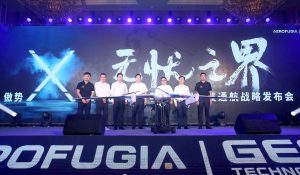 While the drone's wingspan is over 5 metres long, the vehicle can be dismantled into smaller parts that fit inside a box. During a launch event on Tuesday, Aerofugia representatives were able to put together the drone piece-by-piece in just over a minute using only their hands. Chief scientist Guo Liang pointed out,  "The box is small enough to fit in the back of an SUV."
The drone is already being used by police in the central Chinese city of Yongcheng, according to Aerofugia. It's being deployed to patrol highways and riverways. The company said the drone can also be used for emergency rescues and safety inspections.
Geely is also working on self-driving cars. To provide them with high-speed internet and navigation. The company stated it is spending more than USD300 million to launch its own satellites by the end of the year.
For more information