Aberdeen University medical student and hillwalker, Sophie Barrack, has designed a prototype drone to carry medical supplies to climbers in trouble, reports dpaonthenet.net. Sophie, an outdoors enthusiast, wanted to discover what type of medical supplies would be most needed in a rural emergency and whether they could be transported by drone to that area.
First, she sent a survey to volunteers from the Scottish Mountain Rescue, Mountaineering Scotland employees and her network of NHS Healthcare professionals across Scotland to ask their opinions on what items would be most useful in a remote emergency.
86 percent of respondents said they thought drones could be used in healthcare in Scotland. 73.5 percent thought the craft should be used in First Response cases and 71.4 percent believed they could be flown in remote and rural settings.
Second, when asked what a healthcare drone in Scotland should carry, the top two answers were medication and medical equipment including items such as pain killers, insulin, an EpiPen or fluids as well as glucose testing equipment, tourniquets, dressings, catheters, oxygen and defibrillators.
Sophie explains, "Once the survey showed the positive views of emergency drone delivery, I wanted to gain an idea of the top five things they might transport. The building of the drone was a bit of an afterthought, really."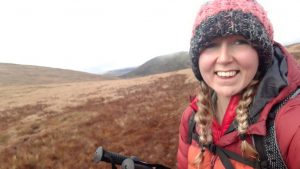 She continues, "Drones are used to locate missing people in remote areas, so it would be great to explore if they could be used for delivering small amounts of medication or equipment to climbers or walkers in trouble quickly while a mountain rescue team attempts to reach them."
In Scotland, Search and Rescue Aerial Association Scotland formally joined Scottish Mountain Rescue in 2018. The team already use drones in the search for missing persons, but not to deliver equipment or resources.
Sophie's drone is a more conventional 'off-the-shelf' model. Presently, it doesn't have the necessary range to reach people in remote areas, but she hopes to establish whether it could carry the necessary weight of medical equipment and still fly accurately in a range of Scottish weather conditions.
Sophie's lecturer, Dr Heather Morgan, says, "It is really exciting to work with Sophie because we both share an ambition to take this project beyond the desk research and into existing drones for health around the globe. Being an applied health scientist and tech enthusiast, I was keen to support Sophie's desire to explore Scottish opinions through the survey and to then act on the results."
She adds, "Creating the prototype was a lot of fun and we've already discussed how this project might influence further studies and developments with NHS stakeholders."
Watch Video
https://www.youtube.com/watch?v=Tb2AHtPMGHI&list=PLmKrFyUVrIH7A_Aqugr6r1rEFpwzIuL77&index=1
(News Source: http://www.dpaonthenet.net)