Asian Express Aviation Group intends to expand its low-altitude flights with 50 TCab Tech E20 eVTOLs in large and currently under-served tourism markets.
"Additionally, E20 could complement Asian Express Aviation Group's intermodal transportation offering serving the 300-500km inter-cities business to provide safe and convenient air mobility services to the public," according to a company press release.
"Asian Express Aviation Group is a leading diversified aviation industry group in China, with wholly owned, controlled, or authorized management of more than ten enterprises such as Inner Mongolia Express Airlines, Hunan Asian Express General Aviation, Wuxi Asian Express General Aviation Co., Ltd., Shandong Asian Express General Aviation Co., Ltd., and Jiangxi Express Commuter Aviation Co., Ltd," says the press release. "It holds CCAR-91, CCAR-135, CCAR-145, and CCAR-147 operation qualifications and is the largest strategic partner and authorized service center of Pilatus Aircraft Ltd. in East Asia. As a pioneer and practitioner of short-distance transportation and commercial parachuting in China, Asian Express Aviation Group leads the industry for short-distance transportation, aerial photography and surveillance, and low-altitude consumer transportation services since it started operations in 2018. Currently, Asian Express operates more than thirty Pilatus aircraft."
The E20 is designed for short-range travel between 30 – 150 kilometers and has a cruising speed of 260 km/h and maximum cruising speed of 320km/h.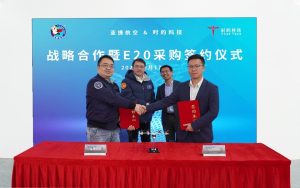 Attendees at the MoU signing ceremony were Asian Express Aviation Group Chairman, Mr. LIU Qing (2nd person from the left), Vice President of Asian Express Aviation Group Mr. YANG Li (1st person from the left), Founder and CEO of TCab Tech, Mr. Yon Wui NG (3rd person from the left), and Co-founder and CMO of TCab Tech, Mr. JIANG Jun (4th person from the left).
For more information
https://www.linkedin.com/pulse/asian-express-aviation-group-signed-mou-50-e20-evtol-aircraft-%E6%97%B6%E7%9A%84%E7%A7%91%E6%8A%80/