The UK Government has partnered with Israeli-based international defense electronics company, Elbit Systems, to research the possible deployment of its drones for the police, reports north.wales.
The National Police Air Service (NPAS) announced the trials this week, "…to explore how this technology might be used to deliver public safety in support of the police forces of England and Wales in the future".
The trial included a series of simulated police aviation outlines presently carried out by the existing national fleet of helicopters and aeroplanes in support of the 43 police forces of England and Wales and British Transport Police.
Captain Ollie Dismore, director of flight operations at the NPAS, said: "With continuous advances in UAV capabilities, UK policing is exploring the viability of platforms such as drones for possible future use in delivering police air support nationally."
He continued, "Police forces need to embrace innovation and to make use of advancing technology, including the reduction of the carbon footprint. "If this technology enables us to fulfil our national remit more efficiently then it will be considered as part of a future national police air service fleet."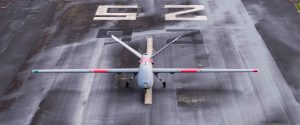 The NPAS made use of the Elbit Systems Hermes 900 – an Israeli medium-size, multi-payload, medium-altitude long-endurance unmanned aerial vehicle (UAV) with a 15 metre wingspan. The drone is controlled by two crew on the ground, and can reach speeds of 140mph, and can stay airborne for around 36 hours. Elbit make the majority of drones used by the Israeli military in Gaza.
A trial at south west Wales Airport near Aberporth was carried out and is now complete. A report will follow which will provide a detailed assessment of the capabilities offered by this class of Unmanned Aerial Vehicle and its fit to national policing requirements.
Policing Minister Kit Malthouse said: "Our police confront danger to protect us and they deserve the best tools and the best technology.
"These trials may point to a new and more effective way for the police's air service to do its vital job – finding missing people and bearing down on crime."
The tests are part of a wider test of Elbit technology organised by the Maritime and Coastguard Agency.
For visual presentation
https://www.youtube.com/watch?v=BiLRE68UI6Y
(News Source: https://north.wales)